2012 Mercedes-Benz S-Class Summary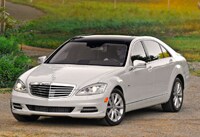 The Mercedes Benz S-Class is the baseline when car people talk about true, full-size luxury sedans suited for the daily grind. It comes in several varieties of fast, but only one brand of smooth and granite-solid, all-wheel drive optional. The S-Class is huge inside, with a quiet, coddling interior, an expansive array of mostly useful technology, unparalleled safety systems and a lineup that includes everything from a high-mileage diesel to one of the most powerful four-door production cars in the world.
New Car Test Drive correspondent G.R. Whale reported from Los Angeles; J.P. Vettraino reported from Detroit.