2012 Mercedes-Benz S-Class Walk Around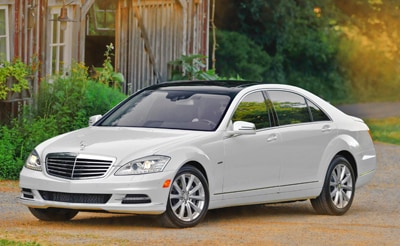 Traditionally, Mercedes-Benz styling evolves slowly, with minimal changes year to year and only moderate changes with complete redesigns. That still holds with the flagship S-Class sedan. Its shape and body panels haven't changed since the current version debuted in 2007, but it still looks elegant and contemporary.
The S-Class is a big car. It's longer, with a longer wheelbase, than a honking Hummer H2 SUV, for example. It also fills a bit more floor space than either of its primary competitors, the Audi A8L and the BMW 7 Series, and Mercedes uses a variety of materials to keep the S-Class's weight under control. Its hood, door skins, and front fenders are aluminum, as are the engine, transmission and most major suspension components. The trunk lid is made of a plastic composite, and its structural innards are largely high-strength steel. An S-Class isn't a bad place to be in a crash.
The basic S-Class shape has discernible fender flares front and rear, a classic grille laid informally back and a general flow similar to its ultra-lux Maybach sister-brand. Its lines pay off in minimal wind noise and aerodynamic drag, high-speed stability, and an air of exclusivity enhanced by key details, starting with chrome strips framing the glass and rear doors more than four feet long.
Other details are anything but ordinary. Gaps and transitions in the body are subtle, minimizing the disruption of airflow over the surface. There isn't a sharp edge anywhere. The side mirrors fold narrower than the widest part of the car. Positive stops keep the doors open at any position you move them to, and they essentially suck themselves shut, so you needn't slam them. The keyless entry works effectively for all doors and the trunk.
Exterior changes to the current S-Class have largely been reserved to the array of exterior lights, and more for practical benefit than style. LED elements have grown more prominent, with bright-white daytime running lights in the lower bumper, standing lights, and parking lights that switch to amber for front turn signals. The taillights, once divided by body color strips, are now full LEDs. V12 models feature adaptive brake lights that blink rapidly during heavy braking.
The S-Class line offers multiple wheel styles, from 18 to 20 inches in diameter, and the larger wheels are available on all models. The big wheels look fabulous, and they can improve handling, or specifically steering response. But the payback is significant. The large rims mean shorter tire sidewalls, so they don't as readily shrug off potholes. The low-profile tires are nosier. They generally detract from ride quality, cost more to replace, and limit the use of tire chains or even winter tires in snowy climes.
There are some subtle model distinctions. The S400 hybrid has a HYBRID logo on the trunk lid and BlueEfficency badging on the front fenders. The S600 gets V12 badges on the fenders and dual double-square tailpipes. The racy AMG models have more aggressive air management devices, with more visual mass to the lower bodywork and a deeper grille. They're finished with quad-oval tailpipes. The V12 BITURBO badge on the S65's fenders should make mere mortals think twice before offering to run for pink slips.
Interior
The Mercedes S-Class cabin is like a cocoon, or perhaps more appropriately a vault, that wraps its occupants in quiet, comfort and every amenity one can reasonably expect. Yet if there's a single predominant impression inside the S-Class, it's space. Unlike its competitors, the S-Class for North America is offered only in its long-wheelbase version, with capacious room up front and even more behind.
The interior finish is appropriate to this class of automobile, and the choice of materials is expansive. All S-Class cars have leather seating, though there are several grades available, and more money usually brings an Alcantara headliner as well. There has to be plastic somewhere, but it's difficult to spot. The giveaway point on most cars, the pillar between the doors, is carpeted about a third of the way up in the S-Class and then covered in headliner material. Trim choices range from contemporary piano-black lacquer and ribbed brushed metal to more traditional wood-grain and chrome. Some of the high-gloss surfaces glare in the sun, but there are very few flat surfaces, and details stand out throughout. Note the chrome lip on the strip of wood sweeping across the dash and doors, or how the woodwork bends around the controls and console, or how the center console opens from either side.
Visibility is very good for the driver, thanks to expansive glass, a sloping hood and well- placed roof pillars. Standard bi-Xenon adaptive headlights and eight heated windshield washer jets certainly help, as do the optional parking sensors and rearview camera. If the back seat is empty, the rear headrests drop out of sight at the touch of a driver's button.
The standard 14-way powered front seats are heated and ventilated, with three memory settings each side. The wide range of adjustment includes seat-cushion length. Switches shaped like miniature seats are mounted on the doors to ensure easy reach and operation. Some adjustments, like recline, will also adjust headrest height automatically, but as it is with many S-Class controls, you can manually override if you wish.
The optional Drive Dynamic front seats add further adjustments for cushion, backsides, lumbar and shoulders, plus four varieties of massage,. These amount to a sport seat with the comfort of a fine armchair, and they can automatically inflate side bolsters relevant to cornering load to hold you in place. We found this feature distracting when cornering, so we turned it off, and still kept the massage going.
The gauge package provides standard data, with speed, tachometer, fuel level and coolant temperature. The central speedometer is a video image, rather than a rotating mechanical needle. The center portion can display everything from navigation or audio info to driver assists and mpg to lap times in the AMG cars, called up via thumb buttons on the steering wheel spokes. With Night View engaged, the screen shows an image of the dark road ahead with pedestrians highlighted, adding speed along the bottom and warning lights superimposed around the periphery. Its central line-of-sight location and crisp image make Night View better than other night-vision enhancements that rely on thermal imagery.
Primary driving controls are on the steering column, with a PRND shift stalk on the right, and up/downshift paddles on either side (close to the wheel, with little finger space between). On the left are stalks for cruise control, wheel tilt/telescope, and a busy one with turn signals, high beams, wipers and washers. We don't understand Mercedes' longstanding commitment to its odd cruise-control stalk, because it doesn't work very well. The eight-position, dash-mounted light switch has off and automatic modes, but even in off the headlights were often on in daylight, and that was after we consulted the six-page owner's manual entry on the lights.
Most of the other buttons are located in a bulging pod below the standard navigation screen. The screen sits top and center, and can be adjusted for brightness separately from the other instruments. It's well shaded, and can be angled toward driver or passenger. The optional Splitview screen is a potentially marriage-saving device that allows the driver to see one full-size image (map, radio, seat control) while the front passenger sees another (a movie with headphones or map if they're navigating) simultaneously on the single central screen. Don't ask us how they do it.
Climate controls are arrayed below the screen. The S-Class provides true dual-zone operation, not merely independent temperatures. The system allows a choice of how airflow is layered and distributed through the cabin, lest the driver prefer foot-well flow and the passenger dash vents. There are hard buttons for temperature adjustment and fan speeds, but if you want to direct airflow in any fashion except defrost or automatic, you'll have to delve into the point-and-click control system.
Mercedes-Benz calls its central control system COMAND. It uses a round knob that rotates and moves in three dimensions, a mouse-shaped palm rest that hides a 10-key, phone-style pad, and four quick-access buttons across the front. There's a thumbwheel to control audio volume as well, and while it's easy to find, it's hidden from the driver's view by the palm rest.
COMAND uses series of menus and scrolls to adjust hundreds of things, and every operation appears on the video screen. You can rotate the COMAND knob to change radio stations, or use the keypad to punch in the number directly. Overall, the system is a decent balance of old-fashioned mechanical buttons and point-and-click menus, and probably less complicated than some others. We'd rank it a notch below Audi's MMI interface and a couple of notches above BMW's iDrive.
The S-Class comes standard with a 600-watt, 15-speaker harman/kardon Logic 7 surround-sound system, including a 6-DVD changer, memory card and satellite radio receiver. Auxiliary inputs are out of sight in the glovebox and run through the COMAND screen. An analog clock rides center dash, branded by watchmaker IWC Schaffhausen Ingenieur in AMG models. Cabin storage includes a sizable pocket in each door, smaller pockets within the front door armrests, center console cupholders and bins, and the glovebox.
The three-place rear seat is huge. With a 6-foot, 3-inch driver, we measured more than a foot of space from front seatback to rear seat cushion. It's also well-stocked with amenities, including four adjustable AC vents, separate cabin and reading lamps, overhead lit vanity mirrors, and the same adjustable ambient lighting as the front, hidden below the woodwork strips. There's a storage area behind the center armrest, and a standard power-operated rear-window shade. Power shades for the rear side windows are optional.
If your clients or kids are worth it, the rear-seat upgrade package adds left/right rear climate control and heated and ventilated power-adjustable outboard seats. This setup provides the utmost in comfort while maintaining five-passenger capability. On S-Class cars so equipped, the driver can control adjustment of the seat behind. The right rear passenger (the boss position) can control the right front seat for additional legroom. The entertainment package adds a height adjustable screen behind each front headrest, with video inputs and a DVD drive under the center rear seat. It comes with dual wireless headphones and an individual remote for each screen and the car's main audio system.
Mercedes has changed the published capacity of the S-Class trunk from 19.8 to 16.4 cubic feet. Where the extra space went, we're not sure, because the trunk remains as roomy as ever, and still roomier than that in the Audi A8 (13.2 cubic feet) or BMW 7 Series (14 cubic feet). The trunk space is ideally square-angled and tall, and therefore holds more cases and bags than many vehicles with greater listed capacity. The S400 has the same trunk space as the non-hybrid S-Classes, because its relatively compact battery is under the hood.