2012 Mercedes-Benz SLK-Class Driving Impressions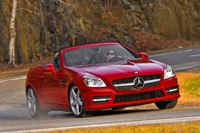 The 2012 SLK350 is legitimately sporty, but it competes with cars that are even sportier, namely the Porsche Boxster and BMW Z4 sDrive35is.
We drove the 2012 SLK350 on North Carolina's famed Tail of the Dragon and found it to be an ideal car for this technical 11-mile stretch that features some 300 turns. It carved through the corners like an Olympic slalom skier and had just the right amount of power to sprint from one turn to the next. We torture-tested the brakes with two complete turns through the Tail (down and back twice), but they never faded or warped. Most production car brakes would struggle in such conditions.
With its low stance and short wheelbase, the SLK350 dives readily into turns. When pushed through switchbacks, it rotates nicely, without a tendency to plow forward. It also stays very flat through corners, and gathers itself quickly to head back in the opposite direction. It's a good car for an autocross.
Just off center, the steering isn't razor sharp, but thanks to its Direct Steer system, it gets much more responsive in tight corners. This variable ratio system becomes quicker the further off center the steering wheel is turned, making it easier to rotate the car through the 180-degree switchbacks found on the Tail of the Dragon. It's a great system, but we still prefer the Porsche Boxster's steering, which is sharper and offers more feedback.
The SLK structure isn't changed appreciably for 2012, but it didn't really need to be. There is very little cowl shake with the top up or down. The SLK doesn't feel as solid as the Porsche. Ride quality, on the other hand, is more compliant over bumps, making the SLK easier to live with on a daily basis.
The 2012 SLK350 marks the debut of an all-new engine for Mercedes. Though it displaces the same 3.5 liters as last year's V6, it is more powerful, more responsive and more fuel efficient. Power is available at all speeds with broad rev ranges, so sprinting ahead of traffic and passing will never be a problem. Throttle response is tuned more for comfort than outright performance. It tips in smoothly but doesn't feel dull. The engine note is prevalent, especially at full throttle. It's a raspy, somewhat flatulent note that isn't as cool as a V8 rumble. Still, we thought it fit with the car's sporty character.
While the SLK350 is quick, it's not as quick as some of its competitors. Zero to 60 mph takes 5.4 seconds in the SLK. The Porsche Boxster S and BMW Z4 sDrive 35is are sub five-second cars. Those looking for more power in the SLK will have to wait for the upcoming SLK55 AMG with a reported 415-horsepower 5.5-liter V8. Those who want to save money in the SLK will want to opt for the forthcoming SLK250, which will feature a 201-horsepower turbocharged 1.8-liter four-cylinder.
The 7-speed automatic works well in everyday driving and aids fuel economy, but it's meant for a passenger car, not a sports car, and we found it lacking for this car. It's one of the major reasons the SLK isn't as sporty as some competitors. When you start to push it during performance driving, shifts in Drive feel slushy. Sport mode holds gears longer to make power more readily available, but the shifts still aren't quick. You can opt to shift it manually via the steering wheel paddles, but it takes its sweet time engaging that next gear. The dual-clutch automated manuals offered by the competition crack off the gear changes much quicker. To compound the issue, Mercedes doesn't offer a manual transmission, which is just wrong for a sports car.