2012 Mercedes-Benz SLK-Class Introduction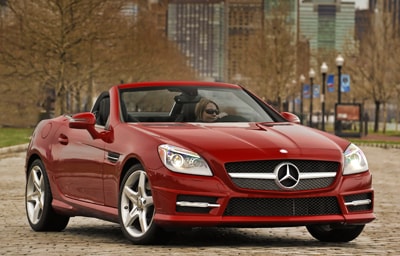 The Mercedes-Benz SLK350 is the smaller and less-expensive of the marque's two-door roadsters. The SLK350 features a retractable hardtop that shuts out the weather when up and allows for the freedom of open-air driving in just 20 seconds. In price and performance the SLK350 competes with the Audi TT, BMW Z4, and Porsche Boxster.
The 2012 Mercedes-Benz SLK features fresh looks inside and out and a new engine, though the platform isn't substantially new.
Initially, a new 3.5-liter V6 is the only engine available. It replaces another 3.5-liter V6, but adds direct engine and changes from a 90- to a 60-degree configuration, which is the ideal design geometry for a V6. Horsepower and torque are up slightly, but fuel economy is improved by 12 percent. The lone transmission is a 7-speed automatic that can be shifted manually with steering wheel paddles.
Due in early 2012 is the SLK250, which will feature a 201-horsepower turbocharged 1.8-liter four-cylinder. Following soon thereafter will be the SLK55 AMG, which will get a new 415-horsepower 5.5-liter V8.
In basic V6 form, the SLK350 is quite quick, but not as fast as higher end models from its competitors. The new engine has a pronounced exhaust note that is probably the rawest aspect of the car.
Handling is impressive, though not quite as sharp as that of the Porsche and BMW competition. The steering isn't razor sharp just off center but it gets quicker as the steering wheel is turned thanks to Mercedes-Benz's Direct Steer. It's a great system that aids handling in sharp turns. While the Boxster and Z4 may be sportier, the SLK is the most comfortable car in its class, with a quiet, stable ride.
Inside, the SLK offers the typical high-quality Mercedes-Benz cabin featuring an attractive design and top-notch materials. Room is good for all but tall drivers, who will want more seat travel. The folding hardtop limits trunk space, but there is still enough room for a weekend away.
The 2012 Mercedes-Benz SLK350 delivers agile handling, ready power and a smooth ride. Driving enthusiasts, however, will be better served by the Porsche or the performance version of the BMW.