2012 Mercedes-Benz SLK-Class Summary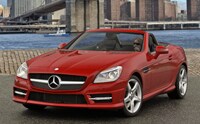 In a class with some impressively sporty competition, the Mercedes-Benz SLK is competitive, but it gives up some performance for a smooth ride, reactions that aren't quite as sharp, and a transmission that fits better in an S-Class than in a sports car. The new engine offers an impressive balance of power and fuel economy, and the looks are more masculine than ever. Prices continue to rise, though, making the SLK350 a less accessible deal than it was in the past.
Kirk Bell filed this NewCarTestDrive.com report after his test drive of the Mercedes-Benz SLK350 in Tennessee and North Carolina.