2012 Mercedes-Benz SLK-Class Walk Around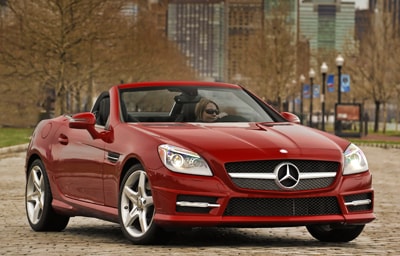 The 2012 Mercedes-Benz SLK features the classic sports car silhouette, with low stance, long hood, and short rear deck. The design, which appeared on the high-performance 2011 SLS AMG, takes cues from the 1955 190SL, with a pronounced, upright grille. The large grille features the Mercedes star, which can be interpreted as the front view of a propeller, and it is flanked by bars that look like airplane wings. Daytime running lights are standard, and self-cleaning, adaptive bi-xenon headlights that point into turns are optional.
The car is 1.5-inches wider this year, 1.5 inches longer and it sits a half inch lower. The front fenders sport side gills which are new to the SLK, but are recognizable from the larger SL-Class. The rear end features an integrated trunk spoiler and LED taillights. The overall look is more masculine, which is just what the SLK needed.
The retractable hardtop is easy to operate, but it doesn't work while the car is moving as similar tops do on some competitors. It goes up or down in a tidy 20 seconds. The top is offered with a body-color roof panel, an 80-percent tinted clear panel or the new Magic Sky Control roof. This industry first option features a tinted film with particles that can be charged. Press a button to send a charge through the film and it reduces the tint to 80 percent, letting in lots of light. When uncharged, the particles flatten out, increasing the tint to 95 percent, darkening the view above considerably, and helping to keep the car cool on a hot day. Magic Sky Control is a cool little innovation, but at $2500 it's more of a curiosity than a wise option choice.
Interior
Like other Mercedes models, the SLK interior is replete with top-notch materials. There are no hard plastic surfaces or wide panel gaps. The dashboard, armrests and center console are all soft to the touch, and the design is made more interesting by contrasting colors. Real aluminum or burl walnut wood trim add to the look, as does the red ambient lighting included with the Sport Package. The gauges, which feature gray numerals on a white background with aluminum trim rings, have a classy watch-like quality. These gauges straddle a digital display that shows trip computer, outside temperature and other vehicle information.
Like other luxury cars, the SLK features a central control interface. Mercedes calls it COMAND, and it uses a rotating knob on the center console to control the communications, navigation and entertainment functions. A series of buttons on the center stack makes getting to each area easier, but it will still take awhile for the uninitiated to get used to the system. It may be a bit complex, but it eliminates the need for many hard-to-find buttons. After several turns in various Mercedes, we've gotten used to COMAND, but it took longer to learn than BMW's iDrive system did.
Appropriate for a sports car, the seats are comfortable, supportive and have thick enough bolstering to keep occupants in place in fast corners. Head and legroom are plentiful for average size occupants, but tall folks might want more seat travel. You won't want to put the seat back all the way because it rubs up against the rear bulkhead and causes an annoying squeaking sound. Cool weather comfort is aided by the available AirScarf system, which blows warm air on passengers' necks. It's a bit of a help on a cool day, but it won't make you want to drive with the top down when it's under 50 or 55 degrees outside.
The retractable hardtop does a good job of shutting out noise when up, and visibility is good with the top up, too. The SLK offers two types of windblockers. The standard cloth windblocker works just fine and an optional version with two fold-down Plexiglas wings works just as well while offering better rear visibility. Neither version, however, will shut out enough wind to make cell phone calls possible at highway speeds when the top is down.
While the top takes up some trunk space, the SLK has a decent 6.4 cubic feet of cargo volume. As we found out, that is just enough to hold two pieces of carry-on luggage and two laptop bags.