2012 Mini Cooper Introduction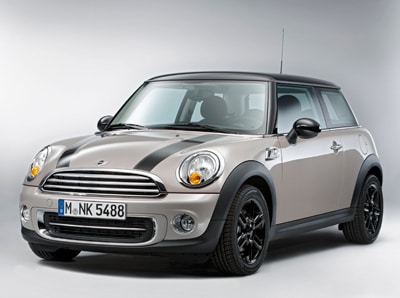 The Mini Cooper delivers agile handling, crisp performance and an interminably cute bulldog appearance in a tidy, efficient, front-wheel drive package, with plenty of space and comfort for front seat passengers.
The number of Mini Cooper body styles has expanded to include Hardtop, Clubman, Coupe, Convertible, and Roadster versions, all similar in terms of mechanicals, structure, front sheetmetal, and interiors. All ride on the same 97-inch wheelbase except the Clubman, a stretched version that rides on a 100-inch wheelbase.
The styling of the Mini Coopers was freshened for 2011 with new bumper, tail light and wheel designs. The front ends were also reshaped to meet new requirements for pedestrian safety.
For 2012, updates for the Mini Cooper models were confined to cosmetics, including a new line of trim options aimed at giving owners more opportunity to individualize their cars. Offered as a new collection of custom options called Mini Yours, the choices include a two-tone leather-clad instrument panel with fancy stitching; a two-tone leather steering wheel; Soda pattern Lounge Leather upholstery; 17-inch aluminum alloy wheels; and new interior and exterior colors.
The 2012 Mini Baker Street and the Mini Bayswater are special edition Hardtop models with expressive design features and exclusive equipment influenced by contemporary London style as the city prepares for the Olympic Games. Mini Baker Street is oriented around the fresh, youthful style of the brand, and comes with the 118-hp Mini Cooper engine. Mini Bayswater is focused on the sporting verve and agile handling for which the Mini is renowned and is available with either the Mini Cooper engine or the 172-hp Mini Cooper S engine.
The Mini Coopers are powered by a 1.6-liter four-cylinder engine available in three levels of power output. All Minis are available with an optional 6-speed automatic.
The Mini Cooper models come standard with a 1.6-liter four-cylinder engine rated at 121 horsepower and 114 pound-feet of torque. This engine works best with the standard 6-speed manual transmission, which adds to the sportiness and makes the Mini Cooper fun to drive. Acceleration performance isn't quick but it's adequate. The Mini Cooper delivers excellent fuel economy, earning an EPA rating of 29/37 mpg City/Highway, or 28/36 mpg with the automatic. Premium gasoline is required, however.
The Mini Cooper S models come with a turbocharged version of the same engine that generates 181 horsepower and a substantial 177 pound-feet of torque, making it one of the world's most powerful engines for its size. All the Minis are fun to drive, but in Cooper S trim they deliver exhilarating performance and nimble handling that's most easily appreciated on a twisty back road. With all that torque, this engine works well with the automatic though we still prefer the manual for sportiness. In spite of the significant performance difference, fuel economy is still excellent, earning an EPA-estimated 27/35 mpg or 26/34 mpg with the automatic. Premium gasoline is required.
The Mini Cooper Hardtop is quite practical when viewed as a two-seat car with cargo capacity. The front seats are very comfortable and supportive seats, and they are large enough to accommodate all sizes of drivers and front passengers. With its hatchback and folding rear seats, the Hardtop can haul reasonable amounts of gear. It has a two-place rear seat, but it is hard to climb into and offers very limited leg room. The back seats are best left for small children or, better yet, stuff.
Those who want more room might choose the Mini Cooper Clubman, which is essentially a small station wagon. The Clubman is 9.4 inches longer overall than the Hardtop, and 3.2 inches longer in wheelbase. The extra wheelbase converts to more rear legroom, making it more practical for rear-seat passengers. Access to the rear seat is eased by a third, rear-hinged door on the passenger side. The Clubman also features side-hinged swing-out doors at the back, for easy access to the cargo area, though they don't improve the appearance.
A wide range of styling options allows owners to personalize their cars, and it's a major part of Mini's appeal. The choices cover upholstery style, material and color; exterior graphics; trim pieces; ambient lighting; and exterior paint, including contrasting colors for the roof. Functional options include high-end features like adaptive Xenon headlights, rear obstacle warning and a navigation system. The basic Minis are reasonably priced, starting under $20,000. Check too many options, however, and the ticket can soar into luxury territory, approaching $40,000.
The most expensive Minis are the high-performance John Cooper Works models. The JCW models play on the brand's heritage as a multiple rally and touring-car racing champion in the 1960s. With 208 horsepower, 192 pound-feet of torque and ultra-firm suspension tuning, the JCW package turns the Mini Cooper into a little hot rod, just the thing for charging up the Monte Carlo stages. The JCW package is available for all models (except the Mini Countryman crossover). For 2012, the Mini Cooper JCW performance package includes the aero body kit as standard equipment.
Mini Coopers offer a great combination of style, driving fun, low operating costs and practicality. Engineered by BMW, Mini Coopers come standard with as much safety equipment as any small car available.