2012 Nissan Altima Introduction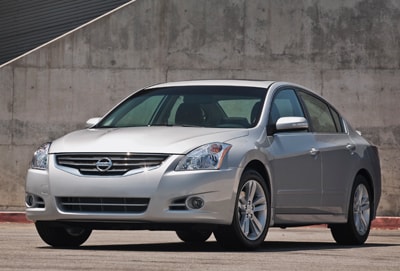 The Nissan Altima is the driver's car among midsize sedans. For drivers who appreciate sharp handling, the Altima excels. It connects with its driver and inspires confidence. It's steady and predictable in extreme handling situations. As a tradeoff, its suspension is firm compared to other midsize cars, so it isn't as smooth over bumps.
Best known as a midsize sedan, Altima is also available in a coupe version.
Four-cylinder, V6, and gas/electric hybrid powertrains are offered. Each version of the Altima has sharper handling than is expected in a mainstream midsize car. This gives the Altima a unique place among the Honda Accords, Toyota Camrys, and Ford Fusions of the world.
The standard four-cylinder engine delivers ample power with good fuel economy. It is rated at 175 horsepower and 180 pound-feet of torque (170 and 175, respectively, in California). The available V6, closely related to the engine in Nissan's 370Z sports car, delivers exciting performance, with 270 horsepower and 258 pound-feet of torque.
The gas-electric Altima Hybrid boasts an EPA-rated 35 miles per gallon in the city, extending its range past 600 miles between fill-ups. The Hybrid features a less powerful version of the four-cylinder (158 horsepower) and an electric hybrid drive. Its electrically powered air conditioning works even when the engine is stopped.
Altima sedan models are equipped with a continuously variable transmission, or CVT, which works like an automatic but varies gearing and doesn't shift. Nissan has excelled at CVT technology. The coupe is available with a 6-speed manual transmission.
The Altima Sedan is comfortable, practical and well suited to growing families. It gives up little rear-seat room to the larger Nissan Maxima, with plenty of room in the trunk for luggage and cargo. In both the Sedan and Coupe, the Altima's cargo space can be expanded into the cabin, thanks to a standard fold-down, locking rear seatback.
The Altima Coupe two-door looks sportier than the Sedan. It sacrifices a substantial amount of rear seat room, however, and we'd say it's a car for two people.
The Altima model lineup fits a wide range of tastes and budgets. The base sedan begins with the essentials, while the generous list of options, most grouped into packages, allows equipping the Altima at luxury-class levels.
The 2012 Nissan Altima lineup carries over largely unchanged from 2011. The 2012 Altima 2.5 S sedan gets a new Value Package with Bluetooth connectivity, redundant steering wheel controls for audio and cruise, and a long list of other conveniences. Altima was last redesigned for the 2007 model year; the coupe was introduced for 2008. Altima was revised inside and out for 2010.
Drivers who put an emphasis on value for the money with a sportier feel than the average midsize car will find the Nissan Altima worth a look.