2012 Nissan Altima Summary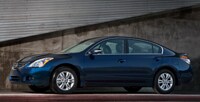 The Nissan Altima offers a sporty alternative to the other midsize cars and is available in Sedan and Coupe body styles. The Altima is available with a strong four-cylinder engine, a gas-sipping electric Hybrid powertrain, or a truly powerful, satisfying V6. The Altima Sedan is roomy, comfortable and stylish, and overall we consider it a great choice versus the competition. The Coupe makes a solid, appealing two-door, though a tight back seat makes it best for two people.
NewCarTestDrive.com correspondents J.P. Vettraino reported from Detroit, with Sam Moses in San Francisco, Tom Lankard in Minneapolis, John Katz in south-central Pennsylvania, and Kirk Bell in Chicago.