2012 Nissan Juke Introduction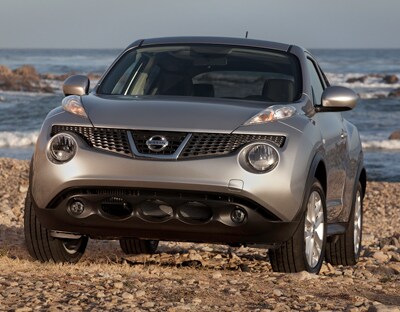 The Nissan Juke is a small, five-seat crossover with distinctive, fun styling, sharp performance and decent cargo space. Those who appreciate unique design and don't mind standing out should love it. It's a great car for running errands around town, hauling boxes, jumping in and out, parking in tight places.
The Juke was introduced as a 2011 model, so the 2012 Juke is unchanged. The Juke is built on Nissan's global B platform, proven with familiar cars like the Versa hatchback and sedan.
The 2012 Nissan Juke is offered in three trim levels, with front- or all-wheel drive, and it's available with high-end features like a Rockford-Fosgate powered subwoofer and navigation with XM traffic reporting.
The name Juke is supposed to suggest flitting around town, as a boxer might juke around the ring, and the Nissan Juke does just that. Juke's styling is aggressively quirky. It's built on a short, 96-inch wheelbase, making it agile for juking around town.
Juke's steering is responsive, and it sticks nicely to pavement on winding roads. Yet its short wheelbase, suspension tuning and relatively large 17-inch wheels combine for a ride the calls out every undulation. It's not sharp or harsh so much as bouncy. When you're driving the Juke over bumps you're fully aware you're in a tight little car.
Juke's 1.6-liter turbocharged direct-injection engine generates a lot of power for its diminutive size, giving it peppy performance. The engine delivers 188 horsepower, 177 pound-feet of torque and brisk acceleration.
The continuously variable transmission, or CVT, is one of the best examples of this technology to date. It can be used like an automatic, shifted into Drive and forgotten, or shifted manually with six speed ranges that sharpen performance. A 6-speed manual gearbox is available for models with front-wheel drive. The manual transmission wrings out the quickest acceleration and best fuel economy, but we found it also emphasizes torque steer and the raucous quality of the engine.
All-wheel drive (AWD) gives the Juke all-season capability though it reduces fuel economy slightly. Juke AWD only comes with the CVT.
Fuel economy ratings for all Jukes are lower than those of the competition. The Juke gets an EPA-estimated 27/32 mpg City/Highway with front-wheel drive and the CVT or 25/31 mpg with the manual transmission. With all-wheel drive, Juke is rated 25/30 mpg. Premium gasoline is recommended.
The Juke seats five, though there isn't much legroom in the back seats. The rear seat is split 60/40 and folds flat. And that's the best configuration: using the Juke as a two-seater with a lot of cargo space.
We found the front seats comfortable while driving about. The fabric is sporty in the Juke SV, while the leather in the Juke SL is impressive. The center console design is inspired by a motorcycle gas tank, and its hard plastic trim is painted a glossy silver or deep metallic red. It's distinctive, and cool.
The Juke competes in one of the fastest growing chunks of the new vehicle market. Juke front-wheel-drive models go head to head with the Kia Soul, while Juke AWD squares off with the Suzuki SX4, Mitsubishi Outlander Sport. The stylish Juke can also be compared with the more expensive Mini Cooper Countryman ALL4.