2012 Nissan Leaf Introduction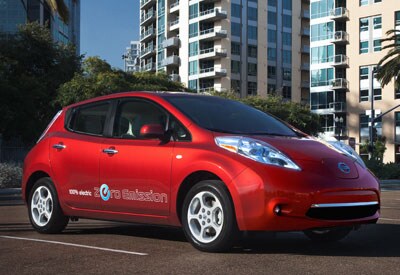 The Nissan Leaf was the first mass-production all-electric vehicle to go on sale in the U.S. for the 2011 model year. Since then, the Ford Focus electric, Mini E, Mitsubishi iMiev, and Toyota Prius plug-in hybrid have hit the market to give the Leaf a run for its money.
Leaf is a four-door compact car that seats five. Nissan says LEAF is an acronym for Low Emission Automobile of the Future.
The promise of the Leaf is an operating range of 100 miles, a top speed of 90 mph, and a 0-60 acceleration time of about 7 seconds flat. With ordinary house current, the Leaf will charge up overnight. With a 240-volt home, business or rental charging unit, it will charge in four hours. It's all-electric, you never need to pull into a gas station in this car.
The Leaf is a zero-tailpipe-emissions vehicle. However, that word tailpipe is important because no vehicle is truly zero-emissions when production and distribution are taken into account. In an attempt to score more points with eco-warriors, Leaf uses recycled water bottles for its seat coverings and a range of other wood and plastic recycled and recyclable materials in its interior and exterior design. Nissan claims the Leaf is the greenest production car ever built, and is itself 94 percent recyclable.
The 2012 Leaf comes with more standard features, including heated exterior mirrors, a battery heater, heated front seats and a heated steering wheel. A quick-charge port now comes standard on the top-of-the-line 2012 Leaf SL.
However, Nissan says, using the national average for electricity rates, a full overnight battery charge will only cost one dollar. Federal and state tax subsidies may help you at tax time, but you'll have to check the details carefully as it varies dramatically among the states.
The benefits of owing an electric car such as the Leaf may not all be measured in dollars and cents, either. In some states, an electric car means unrestricted access to the carpool/HOV lanes on the highways even while driving alone. For those who slog through stop-and-go traffic twice a day, this perk could bring welcome relief. However, it's worth keeping in mind that in crowded cities like Los Angeles, the congested commute lanes don't move much faster.