2012 Nissan Maxima Introduction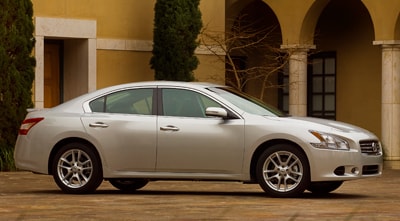 The Nissan Maxima is a sporty midsize sedan engineered for drivers. Sportier and more luxurious than the Nissan Altima, the Maxima is intended more for a couple or four adults on the town. A family of four or five would be better served by a Nissan Murano or Altima. The Maxima can seat five passengers, or four when ordered with rear bucket seats.
Maxima's 290-horsepower, 3.5-liter V6 engine drives the front wheels through a continuously variable transmission. Drivers who take driving seriously don't usually like CVTs for their lackluster performance and snowmobile-like behavior, but Nissan is particularly good at CVTs and this one allows the driver to switch into a manual mode with six pre-set ratios.
The Maxima shares its platform, its basic structure, with the Altima and Murano, but its major bits and pieces are stiffer, providing a firmer ride and more precise steering feel. The Maxima also features a notably wide track, which helps the car handle the corners on its wide tires.
The 2012 Nissan Maxima gets a freshened grille and taillights, as well as updated interior trim. A new Limited Edition package for the 2012 Maxima upgrades over the base model with sportier exterior trim and premium features.
The Maxima is a great looking, assertive sedan with high style and fine detailing. It doesn't look like anything else in the Nissan lineup.
Inside, the Maxima cabin is driver-focused and does a good job keeping its plethora of buttons in a logical, easy-to-use formation. Infotainment options include a Technology package with voice-activated navigation, real-time traffic and weather, DVD/CD player, Bluetooth audio streaming and 9.3GB of digital music storage.
Competitors to the 2012 Nissan Maxima include front-wheel-drive midsize family sedans such as the Honda Accord, Toyota Camry, and Hyundai Sonata, as well entry-level trims of near-luxury midsize cars such as the front-wheel-drive Acura TL and the rear-wheel-drive Cadillac CTS sedan and Infiniti G25. The Maxima's dimensions are snugger than in some of the other cars in its class, most notably in trunk space and in rear headroom, the latter due to the car's low roofline.
Fuel economy for the 2012 Nissan Maxima is an EPA-estimated 19/26 mpg City/Highway or 22 mpg Combined. That's on the low end compared to V6 versions of the Camry and Accord, the Acura TL and the Infiniti G25.
However, for those who value driving dynamics over space, the Maxima is a solid choice.