2012 Nissan Maxima Summary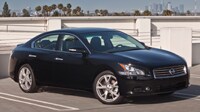 From its quick, accurate steering to the ready power to the nimble handling, the Nissan Maxima is one of the most fun-to-drive midsize sedans. It isn't the roomiest car in the class, and it isn't the least expensive. It isn't meant to be. Instead, it is designed as a premium car for drivers who want a sporty four-door but don't want to spend the money for full-on luxury.
New Car Test Drive correspondents Laura Burstein, Jim McCraw and Kirk Bell contributed to this report.