2012 Nissan Quest Driving Impressions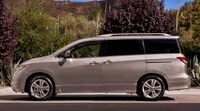 Nissan derived the Quest from sporty sedans and a sporty crossover and that paid dividends in driving characteristics. The Quest comes across as relatively light on its feet. It isn't light by any stretch, though it's among the lighter in vans and feels and drives smaller than it is.
Nissan's superb V6 engine has been proven in a variety of sizes; Quest uses the 3.5-liter size. Rated at 260 horsepower and 240 lb-ft of torque (using regular unleaded fuel) it is the mildest 3.5-liter Nissan makes, but don't equate that to slow. A Sienna V6 has 266 hp and Chrysler's newest Town & Country 283 but both use a conventional 6-speed automatic transmission; Honda's Odyssey has 248 hp and more torque but uses conventional 5- and 6-speed automatics.
The Quest uses a continuously variable transmission (CVT), dubbed Xtronic, proven in other Nissan V6 products. Rather than six gears to choose from it has an infinite range and can therefore ideally match performance and efficiency parameters for any demand. Floor the pedal at an on-ramp and the engine speed will rise near 5000 rpm, where the engine makes peak power, and stay there until you lift off the gas pedal or reach maximum speed. It's much like a powerboat getting on plane, but instead of the prop slipping the transmission is constantly changing its ratio.
Conversely, around town the CVT uses only the minimum engine revs needed to get the job done. At highway speeds it lopes along with barely 2000 rpm showing at 75 mph and if you need to accelerate there is no gear change felt. The CVT has an Overdrive Off switch but that only locks out the highest range for more sprightly response or controlling speed on long downgrades. If you select Low, the transmission uses engine braking to slow the Quest better than virtually any other van. On the minus side the CVT is very loose at idle and it will not hold the van on a hill without using the brake pedal.
EPA ratings are 19/24 mpg City/Highway for the Quest, matching the Sienna V6. Town & Country gets 17/25, and the Odyssey rates a bit higher at 18/27 mpg (19/28 with the top-line 6-speed model). However, it's been our experience with Nissan and other CVTs that their real-world mileage is often better than EPA calculations, and we expect the Quest to be fully competitive in this regard. Our trip computer showed 22.4 mpg average after a couple of hours of primarily urban driving.
Electric-assist steering is used on the Quest and the feel and operation are on par with conventional systems. Quest is quite maneuverable and requires less than 37 feet to make a U-turn. A three-row SUV or crossover with roughly the same exterior dimensions, smaller cabin and cargo space, and only half-an-inch more ground clearance needs more than 40 feet.
Ride quality is very nice, regardless of what row you're sitting in. Although the Sienna is the only van rated to carry more weight, the Quest doesn't feel overly stiff with just one occupant nor like a tub of Jell-O when it's loaded down. A sporty Sienna SE or Odyssey Touring might handle better than the Quest, but we like the blend of ride comfort, grip, and directional stability Nissan has calibrated here.
We made no observations on braking, which means pedal feel and the van's reaction are both appropriate. The CVT can help control or retard downhill speed.
In terms of performance, the upper models enjoy only the slightest, often immeasurable, advantage in steering crispness, minimum braking distance and cornering speeds because they have one-size wider 18-inch wheels but weigh more. On the other hand, the 16-inch wheels will be less-expensive to replace tires, could be used for a set of winter tires if you upgrade, and might make chain-fitting easier. Ride quality should be a little better with the taller sidewalls of the 16-inch tires, also.
A Quest may be configured to tow 3500 pounds maximum, right in line with other vans. The tow limit is one reason you'd have to step up to an SUV and take a fuel economy hit; the other is if you need four-wheel drive for trail adventures. Otherwise, the van makes more sense than an SUV.