2012 Nissan Quest Introduction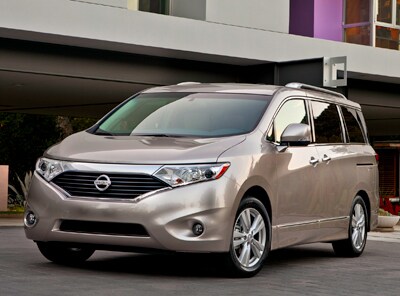 The Nissan Quest is a versatile seven-passenger vehicle. An excellent choice for families with teenagers, Quest transports four adults in comfort in the front two rows plus three more little ones in the third row. Powered by Nissan's superb V6, the Quest rides smoothly yet feels light and agile.
The 2012 Nissan Quest is essentially unchanged because it was redesigned and re-introduced for the 2011 year. This latest-generation Quest employs styling inside and out that is neither controversial nor conventional, and it merges performance and efficiency well.
All Quests come with Nissan's superb V6 engine, shared with the Z and many other models. Quest's V6 produces a 253 horsepower and is EPA-rated at 19/24 mpg City/Highway. Nissan is a leader in CVT technology and the Quest's continuously variable transmission helps with fuel efficiency.
The 2012 Quest comes in four trim levels, topping out with piped leather, a host of electronic conveniences, a screen as large as some laptops, and rear-seat entertainment options.
The Quest cabin is set up with roomy second row. The third row is smaller than most but more than adequate for small children. The forward four seats are genuinely adult-roomy. There is no eight-passenger, middle-row bench seat version.
Cargo versatility is another Quest strength. The cargo area has a trunk beneath a floor level with a hatch opening. This design will be appreciated by anyone who has had to lift an expedition-size suitcase or big-box store case of drinks out of an 18-inch-deep well.
Quest and its competitors, the Chrysler Town & Country, Honda Odyssey, Toyota Sienna, Kia Sedona, Hyundai Entourage, Volkswagen Routan are large vehicles. Roughly the same outside dimensions as full-size SUVs, the minivans are generally superior people movers.