2012 Nissan Sentra Introduction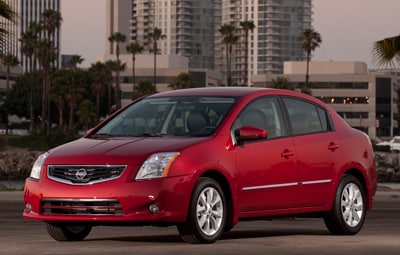 The Nissan Sentra compact is bigger inside than it looks outside. Inside is a roomy interior. Sentra offers a commendable level of features, sophistication, safety and technology. And it's fun to drive.
The Sentra, available as a four-door sedan only (there is no hatchback or two-door model) was designed for the American market and American buyers. The spacious cabin is finished like that of a more expensive car and it has comfortable and supportive seats. There's a 60/40-split rear seat that folds flat, opening up the trunk space and creating a large flat cargo area that's handy for hauling long items.
The Sentra is fun to drive, with a level of performance and handling that's a pleasant surprise in a compact sedan. It's powered by a 2.0-liter four-cylinder of 140 horsepower, which is matched to a very nice 6-speed manual in the base car, with a continuously variable transmission (CVT) optional in the base car and standard on all other trim levels.
Fuel economy is an EPA-rated 24 mpg City, 31 mpg Highway with the manual and a very thrifty 27/34 mpg with the CVT.
Two high-performance versions are available: Sentra SE-R has a 2.5-liter engine with 177 hp and the CVT. The SE-R Spec V has a turbocharged version of the 2.5-liter engine boosted to 200 hp and fitted with a 6-speed manual. Sentra SE-R models also feature suspension modifications for sharper handling. Even though they offer higher levels of power and handling, we found them easy to live with. The SE-R offers the advantages of the standard Sentra and still delivers good fuel economy: an EPA estimated 24/30 mpg. SE-R Spec V is rated 21/28 mpg.
The 2012 Sentra is unchanged. The current-generation Sentra was launched as a 2007 model and benefited from a moderate facelift for 2010.
The Nissan Sentra represents a solid value. It's roomy inside, the engine is modern and competitive, and the chassis provides good handling and a comfortable ride. We like the continuously variable transmission. All told, if you're in the market for a compact sedan that offers a lot of value in a lot of areas, the Sentra deserves your attention.