2012 Nissan Titan Driving Impressions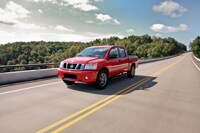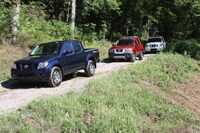 The Nissan Titan has been recognized for its stout drivetrain. It comes standard with a 5.6-liter V8 and 5-speed automatic transmission. Although it doesn't have as much horsepower as some of the competing trucks with larger V8 choices or Dodge's Hemi, it's great on torque. We think a Titan will outrun many pickups and deliver competitive mileage to similar configurations. Only Toyota's 5.7-liter/6-speed automatic, Ford's 6.2 or twin-turbo 3.5/6-speed automatic and GM's 6.2-liter/6-speed automatic combinations challenge it. Titan's exhaust keeps the V8 rumble so adored by truck buyers while eliminating the drone that could wear on long highway trips. It sounds terrific.
Fuel economy is not great, but it's generally within one mpg of the competition and your driving style is easily responsible for three times that amount. The EPA ratings are 13 mpg City, 18 mpg Highway with two-wheel drive and 12/17 mpg with four-wheel drive. If you want a vehicle with this level of capability, it will deliver this level of fuel economy.
We found the transmission responds smoothly and crisply as conditions dictate. A proper gated floor shift allows direct access to any gear without pressing any buttons, and a comfortable grip and good location adjacent to the driver's leg encourages one to use it.
Four-wheel drive and low range are electrically shifted by a rotary dash knob. The electric-locking rear differential (PRO-4X only) is more effective in severe terrain than the all-wheel electronic traction control of regular 4WD Titans and most competitors. There is no automatic 4WD setting for on-road use, but if the electronic traction aids and common sense aren't enough perhaps you should be in 4WD high range.
Pickup trucks aren't held in high regard for ride comfort or handling prowess yet they have made strides in both. The longer wheelbase only betters cruising comfort but even the short-wheelbase Titans will generate no complaints, at least not from anyone who knows what a ton of payload means. Off-road biased suspension tuning with lots of travel, Rancho shocks built specifically for it, and large tires on the PRO-4X contribute to ride softness without giving up control, while the 20-inch wheel/tire combo on SL and Sport Appearance models offers crisper turn-in for cornering but transmits bumps more.
The brakes have significant swept area, a prime indicator of braking capacity, and the Titan has performed well in braking performance tests.