2012 Nissan Titan Introduction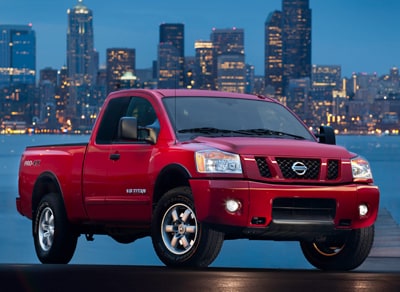 The Nissan Titan is a full-size pickup with lots of power, ample capabilities and a level of refinement for price that adds to its appeal.
Originally launched as a 2004 model, Titan got a new interior, an expanded model lineup, and a long list of detail improvements for 2008, while more safety equipment was made standard for 2010. Changes since then have been minor. The most significant change for the 2012 Titan is a new Sport Appearance Package, which combines functional upgrades with a lot of unique appearance items, including 20-inch wheels.
There are two body styles: The King Cab has rearward-opening rear doors. The Crew Cab is a conventional four-door configuration and offers a choice of short or long cargo beds. The only engine is a very powerful 5.6-liter V8 that makes 317 horsepower, which is matched to a 5-speed automatic transmission. The Titan is available with two-wheel or four-wheel drive and has a maximum towing capacity of 9,500 pounds.
On the outside, the Titan has a rugged, purposeful look. Inside, you'll find an attractive, user-friendly interior. There's room for a family of five or four burly fishermen. Titans range from utilitarian models with crank windows to leather-lined cabs befitting a luxury SUV.
The strong V8 engine gets the job done. Fuel economy is EPA-rated at 13/18 mpg City/Highway with two-wheel drive. The Titan has the robustness and ability to deal with tough jobs and heavy loads, such as pulling a toy hauler full of dirt bikes and sand buggies.
If you need a full-size pickup with power to perform and deal with heavy loads, and with plenty of room inside, and you'd also like the comfort and convenience of the Titan's level of refinement, then it definitely should be on your shopping list.