2012 Nissan Versa Driving Impressions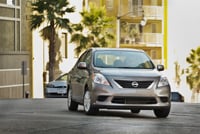 The Nissan Versa has modest power and is a solid choice for A-to-B transport. Fuel economy depends on the model and powertrain. The sedan with the Continuously Variable Transmission will give you the best bang for your buck with an EPA-estimated 30/38/33 City/Highway/Combined mpg. On the low end of the scale, the Versa hatchback with the 4-speed automatic gets 24/32/27 mpg.
Unless you like rowing through the gears on a manual, we recommend the CVT. It doesn't shift gears like an automatic transmission. Instead, a segmented belt rides up and down on cone-shaped pulleys to vary the speed ratio between the engine and the drivetrain. It's smooth and efficient, and most drivers probably won't notice it's anything other than a regular automatic. Nissan excels at CVT technology.
Because the hatchback uses the larger 1.8-liter engine, it has more oomph than the sedan, though at the expense of gas mileage. We had no problem merging into traffic on a fast free-flowing freeway. On winding roads, we found the hatchback's handling to be perfectly adequate. It's not sporty like a Mini Cooper, nor is it sloppy like budget cars of a few years ago.
With the new sedan, acceleration is perfectly adequate around town and on flat highway roads. But we quickly found the Versa sedan's limits once we hit hilly terrain at freeway speeds. In these situations, we often found ourselves driving with the pedal all the way to the floor.
Models equipped with the CVT behave slightly differently than those with manual or traditional automatic transmissions. For one, there is a sound of the engine revving before the car accelerates, which can be a bit disconcerting at first. And in regular stop-and-go traffic under slow acceleration, there is no sensation other than the car moving forward, with no sound or feel of shifting gears. The continuously variable transmission is a far cry from the clumsy gear shifting once common on small four-cylinder cars with 3- and 4-speed automatics.
Versa is one of the first cars in this price category to feature electric power steering. In the past we have been disappointed in the poor feel of electric steering, but Nissan seems to have designed this system so it feels just as good as any hydraulically powered steering. Sporty drivers might wish for more feedback from the steering and more power, but there's no reason for others to complain.
Braking on the Nissan Versa is decent. Because it uses rear drums, the brakes don't have the crisp bite found on cars that use discs all the way around. In past years ABS and brake assist were optional on the base model, but now all Versas come standard with these safety features.