2012 Porsche 911 Summary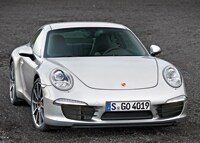 Few products better define their genre than the Porsche 911. Sure, if you've got an extra $100,000 or so you might find something faster, even something that can nudge an extra second or so or your lap times. But for the money, it's going to be difficult to find anything that comes close to the breathtaking performance and pure driving pleasure of the all-new 911 Carrera S. Any concerns we had about how the maker might improve upon the outgoing model have been quelled by the time we spent behind the wheel. Porsche planners are gleefully anticipating a big jump in sales this year and we clearly understand why.
Paul Eisenstein filed this NewCarTestDrive.com report after his test drive of the 911 Carrera S in Southern California.