2012 Porsche Cayman Driving Impressions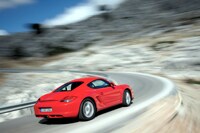 Porsches have had flat-6 engine designs since the iconic 911, and the Cayman retains that proven layout. With direct fuel injection, the standard Cayman engine is 2.9 liters and delivers 265 horsepower and 221 pound-feet of torque, while the Cayman S has 3.4 liters, 320 horsepower and 273 pound-feet of torque.
Either engine bristles with authority for the first seconds after a cold-start and then settles into a hum set off by the slightest ticking characteristic of direct-injection engines. The over-square engines rev easily to 7500 rpm and develop peak outputs between 4400 and 7200 rpm, yet despite that the flexibility and power-to-weight ratios mean you can drive very conservatively and effortlessly if you like; once the engine was fully warmed up we obeyed the upshift light on an S, accelerating in sixth gear from 35 mph on a mild grade with no problem at all. So it can be quite calm and pleasant in the Cayman.
Porsche claims acceleration for 0-60 mph in 5.5 seconds for a manual Cayman and 4.6 seconds for a Cayman S PDK in Sport Plus mode (4.8 seconds in normal mode), so every Cayman has more than adequate acceleration and will top out at 163 mph. These cars aren't built on a more-is-better approach to speed, but rather a superlative combination of speed, handling, and brakes that allows all of the performance to be used.
All Caymans get a 6-speed manual as standard, and gearboxes don't come much better. First through third gear ratios are spaced for maximum acceleration, and fourth through sixth are relatively tighter, to maintain acceleration at higher speeds; you will not find yourself cruising the freeway at 1400 rpm as in a big-bore sports car. Clutch and shift action are on the light side, and the Cayman is happier with a relaxed driver than one slamming through gears.
Porsche's new double-clutch PDK gearbox is the alternative, with a wider overall ratio spread across the seven speeds but always one available for maximum thrust. This is a sophisticated box that will run fully automatically or under full manual control. You have to learn how to best get it in motion, both forward and backward. Tight parking maneuvers are a bit more challenging, and it really isn't built for idle-speed creeping. But it delivers extremely fast gear changes with no brutality. It also rates a few miles per gallon higher on the highway cycle, though any Cayman delivers good fuel economy for a car with this level of acceleration and top speed.
A worthwhile option is the limited-sip differential. The Cayman doesn't have serious issues getting its power to the ground, yet for optimum performance there is always a choice.
About the size of a personal pizza, the brake discs don't look that big, especially lurking inside a 19-inch wheel, until you realize the typical 2,900-pound car has brakes more the size of a dessert plate. Cross-drilled, vented and equipped with multi-piston calipers, the brakes are magnificent: Pedal reaction is instant, braking force directly related to how hard you push the pedal, fade non-existent, and stops short and stable with minimal nose-dive and the rear stays flat. Credit not only the brakes but the low, rearward weight bias and sticky tires. Note that all Caymans have the same diameter brakes but the S gets red-painted calipers.
Porsche's composite ceramic brakes are an option on the Cayman S (at close to 10 percent of the purchase price) and identified by yellow calipers. They are among the best in the world and take many pounds of unsprung weight off the front end, but unless you have 19-inch wheels and frequently drive on track, the performance of the standard brakes is the envy of most motorcars. If you're not sure you need the ceramic brakes, then you don't need them.
As with the other controls the steering is moderately weighted and uses little assist; it's easy to steer the Cayman around your garage without starting it. Response is quick and predictable, the relatively thin-rimmed wheel telling your hands all you need to know and nothing you don't. Effort is never so light you'll be palming the wheel in complete turns and never so heavy you feel like you're working hard. Caress the car like a person and it responds accordingly; be a ham and your date will know you didn't take Porsche's driving school.
With the structural stiffness enabled by the presence of the fixed roof, the Cayman is very rigid. There's no flex or twist to speak of, so the shock and spring rates can be kept firm without upsetting the occupants and roll stiffness keeps the car balanced while letting each wheel do its own work. The addition of Porsche's adjustable shock damping (PASM) allows the comfort for everyday or rougher road use with the taut suspension desired on a track and lowers the ride height; you will need a fairly smooth public road to find yourself going noticeably quicker with Porsche Active Suspension Management set in Sport mode.
Locating the engine, the heaviest part in the car, in the middle and down low results in a low center of gravity, and this means transitional response is superb (changing direction left to right or acceleration to deceleration, for example). Not only do the performance tires deliver considerable grip for ultimate cornering speed, on winding roads you feel only a fraction of the level of weight transfer typical of lesser cars. One of our favorite ribbons of real estate was accomplished a good 5-mph faster than in a front-engine sports car, and in the realm of automotive dynamics that's a runaway.
And this was done with the Cayman's PASM in standard ride mode and the stability management system in the default On position. This system is very well programmed to give a driver some leeway in vehicle attitude; if you feel it reining you in on a public road you're trying too hard and if you feel it on a track it means your line or speed can very likely be adjusted for the better the next time around.
We wouldn't be out a limb calling the Cayman the best-handling Porsche ever built and one of the world's best. Whether it has the fastest lap times, test figures or sales demand, we can't think of a better handling, better driving sports car. The biggest handling advantage we've seen in the 911 is its ability to handle well on bumpy pavement.
The Cayman S comes standard with 18-inch wheels and tires an inch-plus wider than the 17s on the Cayman; either model can be had in a range of 18- or 19-inch wheel styles, all with the same tire width. We would be hard pressed to change from the 18-inch Michelin Pilot Sport tires because, while the 19s might look better or work better on track, the 18s offered great handling, a relatively quiet, good ride, were very easy to find the limit of and recover once we found it, and are significantly less expensive and offer more choices at replacement time.
People look at you in amazement when they ask about the roof points and you answer ski rack, like no one in their right mind would drive this to a ski run. But why not? With a decent set of winter tires on 17- or 18-inch wheels, the engine's weight over the drive wheels, superb manners for the winding roads that lead to most ski areas, seat and steering wheel heaters, heated washers and mirrors, and no room for your ride-bumming boarding buddies, why wouldn't you?
For those driving the undulating, winding road we would recommend the bi-xenon headlight upgrade. The standard lights are quite acceptable for most purposes but the wide area of the main beam has a very narrow vertical band, and if the road is angled or on a hill the edges become less defined. Using the fog lamps helps, but the bi-xenons are better. In fact, along with PASM, it's the only option we'd add to an S to make the purest, driver-centric Cayman.