2012 Porsche Cayman Summary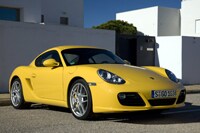 Few manufacturers build cars that deliver consistently better driving experiences than Porsche. From one end of the lineup to the other, throughout the years, a Porsche has always represented a terrific driving experience, and the Cayman models maintain that highest standard. The Porsche Cayman responds to driver inputs in the same manner as a race car but it doesn't bounce over bumps or wear you out with an oppressive ride. It is comfortable, nicely finished, entirely livable in traffic and will accommodate your need for modern conveniences. And the Cayman will delight on a winding highway with sounds to match Salzburg's best, balanced handling, and a driving experience unfettered by technology, insulation or excuses.
NewCarTestDrive.com correspondent G.R. Whale filed this report from Los Angeles.