2012 Porsche Panamera Introduction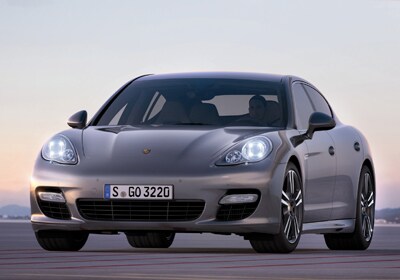 The Porsche Panamera is one of the world's best large sports sedans. It has the luxury, space and performance to make it a great alternative to the Mercedes-Benz S-Class, BMW 7 Series, Audi A8, and is as distinctive as the Aston Martin Rapide and Maserati Quattroporte. Now in its third model year, the 2012 Porsche Panamera is available in a head-spinning seven variants, with thousands of optional configurations.
New for 2012 is the Panamera Turbo S, powered by a turbocharged, 4.8-liter V8 engine that cranks out a whopping 550 horsepower and 553 pound-feet of torque. Those 50 extra horses come at a premium, however, with the Turbo S starting at nearly $37k higher than the regular Panamera Turbo.
Also new for 2012 is the Panamera S Hybrid, powered by a 3.0-liter V6 paired with an electric motor. The latter is capable of making up to 333 hp on its own, with max horsepower of 380 hp in full hybrid mode using both gas and electric motors. The electric motor helps the Panamera S Hybrid achieve plenty of low-end thrust, with its peak 428 pound-feet available at just 1000 rpm. EPA estimated fuel economy is fair, at 22/30 mpg City/Highway, or a 25 mpg Combined rating.
Yet another variant, the 2013 Panamera GTS, is launching later in 2012 as a 2013 model, with a refreshed exterior and a starting price of $111,000.
Panamera's exterior design is based on roominess and space efficiency while attempting to maintain Porsche styling heritage. The look seems to be a love-hate proposition, with haters ahead slightly and very little middle ground. We think it looks ungainly from the rear three-quarter view. But park a Panamera among its competition from BMW, Mercedes and Audi, and it's the Porsche that stands out, the one that you want to get in and drive. In any case, those who can embrace the styling will be rewarded with a truly substantial, satisfying automobile.
The Panamera is only slightly smaller than the BMW 7 Series, and it delivers the sporting performance of a world-class sports sedan with the comfortable ride and refinement of a luxo-cruiser. Those extremes required a lot of careful engineering. Porsche builds the body from lightweight materials and puts the engine low and as far back as possible. The Panamera's standard adjustable suspension can change the ride from soft but stable to race track-ready.
All Panamera models are fast, as is expected from Porsche. The V6 hits 60 mph in as little as 5.6 seconds, while the V8-powered Panamera S models pull of 0-60 mpg in 5.0 seconds. The Panamera Turbo cuts that time to a sports-car bashing 3.6 seconds, with little if any turbo lag and a rush of power that pins you back in your seat.
Don't think for a moment you're giving up cabin space by choosing a Porsche. The Panamera is truly roomy, with back-seat headroom, legroom and hip room that rival that of a Mercedes S-Class sedan. A standard full-length center console divides the Panamera into four distinct and comfortable seating positions. The feel from the driver's seat is much like that in Porsche's iconic 911, only slightly higher off the ground. All of the seats are supportive without being too firm or too deeply bolstered. The space inside still surprises us. The rear seat has enough head room for an NBA point guard and plenty of leg room, too.
The hatchback design makes the Panamera useful as a family vehicle. With the rear seats up, the rear cargo area is as roomy as the trunk in a mid-size sedan. With the seats down, the Panamera has more cargo room than a luxury wagon, with easy access to a fairly expansive load floor.
The Porsche Panamera doesn't come cheap, and as it is with any Porsche, options can add 50 percent or more to the model price. Yet on another level, given its impact and relative performance, the base Panamera V6 might be considered a deal.