2012 Porsche Panamera Summary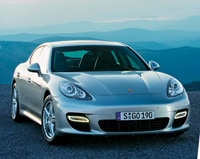 The Porsche Panamera is a viable choice among the big four-door luxury sedans. It can carry four adults in supreme comfort and qualifies as a no-compromise luxury sedan. All Panameras perform well on the street and the track. We think it's one of the world's best luxury sports sedans.
New Car Test Drive correspondents Kirk Bell, Mitch McCullough, J.P Vettraino and Laura Burstein contributed to this report.