2012 Scion IQ Introduction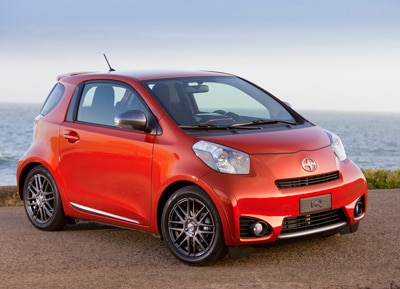 The latest addition to Toyota's younger, funkier brand is the pint-sized 2012 Scion IQ microcar. Scion, which boasts the youngest customer base in the industry, is hoping the IQ will be snatched up by hip, trend-setting city-dwellers seeking easy maneuverability and admirable fuel economy.
Although one would expect cars in this segment to be hopelessly cheap-looking, the Scion IQ does a decent job striking a balance between quality and economy. Bold exterior styling, consistent with the Scion brand, helps to fend off any would-be bullies. But let's be clear, you're not going to look macho driving down the road in a Scion IQ. But at least it won't look like you're piloting a rollerskate, either.
Powering the 2012 Scion IQ is a 1.3-liter, four-cylinder engine that makes a modest 94 horsepower and 89 pound-feet of torque. A Continuously Variable Transmission (CVT) kills some of the fun but, on the upside, helps to achieve an estimated 37 miles per gallon combined.
Sure, the car is tiny, but it doesn't feel that way inside. Several features enable the IQ to stay small without forcing occupants to feel like sardines. It's proportionately wider than other cars, allowing not only more space, but a greater sense of confidence on the road. In the cabin, that means an offset passenger seat along with thinner seat backs to give rear passengers more space. Under the hood, it's smaller, more compact components such as the front-mounted differential and air conditioning unit, as well as a high-mount steering rack with electronic power-steering. Underneath, a flat gas tank beneath the floor reduces rear overhang.
The 2012 Scion IQ's closest competitors appear to be the Smart ForTwo hatchback and the Fiat 500. Dimensions-wise, the 2012 Scion IQ sits in between the two (20 inches shorter than the Fiat, but 14 inches longer than the Smart). The IQ could even be considered an alternative to the Mini Cooper. And while the IQ's base price seems fair at around $16k compared to the latter, that's not a lot of car for the money. Pricing for all accessories is not yet available, but springing for navigation, upgraded audio and suspension enhancements skyrocket the IQ's sticker price to nearly $20k. So unless you live in a congested area and are specifically looking for a diminutive footprint to ease urban parking woes, you might get more bang for your buck with larger vehicles such as the Mazda2, all-new Hyundai Accent, Ford Fiesta or Honda Fit.