2012 Subaru Forester Driving Impressions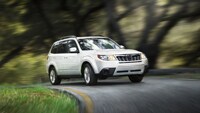 The Forester is supremely secure in its sure-footed handling. It will go around corners like few SUVs, with its experienced all-wheel drive working to grip the road. It has a low center of gravity thanks to its horizontally opposed engine, which is mounted even lower in the chassis than before. The suspension is solid but doesn't feel too firm, while its long travel offers a comfortable ride. Rack-and-pinion steering helps give the Forester a tight steering radius, tighter than the RAV4 or CR-V, making parking and maneuvering easy.
The Limited comes with good all-season tires on handsome 17-inch alloy wheels. Forester owners who drive in the snow country will want to spring for some winter tires. All-season tires won't get you everywhere in snow and ice. We had to drive up a short slope into a snow-covered yard, the rear wheels on slick asphalt and the fronts on soft earth under the wet snow, and it wouldn't do it, as fronts and rears both spun. Even with Subaru's legendary all-wheel drive, if you don't have snow tires for winter, don't expect miracles.
There's a huge 8.7 inches of ground clearance for obstacles that might be encountered, such as the slope up into our yard. The electronic stability control is programmed to allow the tires to spin under acceleration, as long as the car isn't sliding sideways, so the throttle won't cut out on dirt roads. During an off-road test of the Forester 2.5X, we tackled an awe-inspiring steep rutty hill that required full throttle to climb the final 100 yards. The Forester made it to the summit, while a Honda CR-V could not even come close.
The turbocharged engine in the Forester XT delivers a very healthy 226 pound-feet of torque at 2800 rpm and 224 horsepower. The new-for-2011 normally aspirated 170-hp engine makes a bit more usable torque than before, now 174 pound-feet at a slightly lower 4100 rpm. It still doesn't compare to the turbo, however, if acceleration performance is what matters to you. On the freeway or any open highway, a Forester 2.5X has to work to keep up with a Forester XT.
But that's not to say the 2.5X is inadequate. It provides all the acceleration most drivers need. The new engine is a competent 16-valve four-cylinder. Curiously, we found it a bit harsher than the base four-cylinder in the Subaru Legacy, which is still the old belt-drive SOHC unit that powered pre-2011 Foresters. But it might not be fair to compare Forester to Legacy because their construction is so different. And our standards in harshness and NVH in cars with four-cylinder engines keep rising, because all engines are getting so much smoother and stronger.
Some of this is due to the horizontally opposed design of the engine, giving it that distinctive sound familiar in traditional, horizontally opposed Volkswagen and Porsche engines. Often, we can identify one of these flat fours without turning to see. On cold mornings, temperature in the low 30s, the Subaru 2.5-liter we tested made a rappeta-rappeta-rappeta noise upon startup that lasted for just two seconds. At 36 degrees it was still there but very faint, and at 40 degrees it went away.
We found the 4-speed automatic transmission and the 170-horsepower engine to be lacking, on hills at least. Running 70 mph on a slight upgrade on the freeway, it kicked down to third gear more often than we would have liked. It's got to be an improvement over the 2010 model when we commented on the same thing, because the new engine peaks at 174 pound-feet of torque at 4100 rpm while the previous engine made 170 at 4400, but still, a 5-speed automatic transmission seems called for to match the competition. The good news is that manual shifting is available, by pushing the lever forward and back, and it works smartly, giving the driver more control over the kickdowns.
The 5-speed manual transmission feels a bit soft, has a longish throw, and raises the NVH level in the cabin. But it might be considered as a choice with the 2.5X, partly because of Incline Start Assist. If the car is stopped on a hill, the brake stays applied for a moment after you take your foot off the brake pedal, allowing time to get your foot on the gas pedal and disengage the clutch smoothly. So we'd vote for the manual transmission with the 2.5-liter Forester X models.