2012 Subaru Impreza Driving Impressions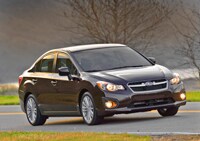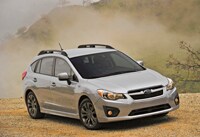 The 2012 Impreza is definitely a Subaru. The small 2.0-liter flat-4 is no racer. A twin-cam engine, unlike the prior single overhead-cam 2.5-liter, the new 2.0-liter has made major improvements in power delivery and its horsepower-per-cubic-centimeter rating.
Impreza's 148 horsepower and 145 pound-feet of torque sound minimal, but its 165-pound weight decrease over the previous model (2008-11) really helps performance, and the new 2012 Impreza with a CVT can accelerate more quickly than the previous-generation version.
Furthermore, the 36-percent leap in fuel efficiency, scoring an EPA-estimated 27/36 mpg with the CVT, is genuinely impressive. A PZEV (Partial Zero Emissions Vehicle) is available that lowers emissions further, though it comes at higher cost.
One characteristic we did not like is the artificially sudden throttle tip-in from a standing start. It may make the car seem faster than it is, but it was annoying and unnecessary.
Our drives in the Impreza demonstrated one great plus. At Interstate speeds, it accelerates crisply and is delighted to cruise calmly and steadily at the very highest speeds you can get away with.
We found the continuously variable transmission a big improvement over earlier CVTs, including Subaru's early version. The transmission has lost that feeling of being dragged around by a rubber band. The transmission still varies its ratio in response to engine speed, but it doesn't do this as numbingly, promoting more direct control of acceleration and speed.
Our Premium five-door had steering column-mounted paddle-shifters, the left-hand paddle for downshifts and the right-hand paddle for upshifts. Anyone used to the kind of vehicle control provided by a manual transmission, but not wishing to thump a clutch pedal every few seconds, will find these paddle-shifters a must. And the Subaru transmission doesn't play games. Within reason, you get the shift you asked for.
The transmission has another brilliant provision. With the console gearshift lever in the right-hand position, the CVT will make fully automatic shifts aimed at maximum fuel mileage. You can still paddle shift in this fully automatic mode, the transmission waiting a period before shifting to the most efficient cog. But if you insist on absolute paddle-shift control of the transmission, you merely move the gearshift lever to the left. From then on, when you make a paddle shift, the transmission holds that gear in play until you select another gear. This allows downshifting to control your car's speed descending a grade, because the downshift order stays in effect. If you want to, you can paddle-shift down two or three gears, presuming you will not over-rev the engine. This may be useful for downshifting into corners in wet-weather or snow.
The Impreza's new electronic steering delivers nicely firm steering effort, while contributing a 2-percent savings in fuel efficiency. And the Impreza's cornering and stability are surprisingly good even at relatively high cornering speeds. The new suspension keeps the car remarkably flat and stable. However, when taken to its cornering limit, a large amount of body roll takes place. We found the Impreza much more pleasant at a sporty pace than at a racy pace.
The braking system had all the expected supporting systems: Electronic Brake Distribution, ABS and Brake Assist. The brakes had fairly good feel and performed powerfully even in very wet conditions.