2012 Subaru Impreza Introduction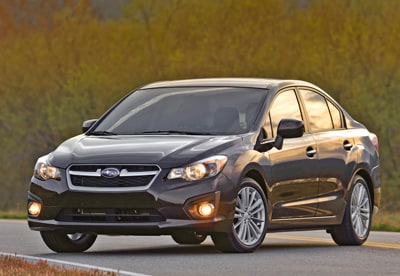 The more things change, the more they stay the same; that adage has applied to Subaru for decades. These concise, tough, traditionally plain cars have an exceptionally devoted following in the marketplace, largely because Subarus have the lived-in familiarity of a favorite pair of old shoes.
The skeletal aspects of the all-new fourth-generation 2012 Subaru Impreza, its structure, minimalist boxer four-cylinder engine and on-demand all-wheel-drive, follow faithfully in the Subaru tradition. But for 2012, something new, and almost un-Subaru, has been added.
The new 2012 Impreza is the most dashing, stylish car Subaru has ever dared produce. Dared? Yes. Given Subaru's conservative, don't-rush-me tradition, this 2012 Impreza is, in its own way, revolutionary. Subaru fully intends the new Impreza to continue to appeal to its traditional buyers on the basis of its sturdy, capable all-weather characteristics. But at the same time, Subaru hopes the new car will reach out to brand-new buyers with its well-styled looks.
With Subaru's penetration of the American market inching constantly upwards, its market share is 3.47 percent, the highest ever, the company has good reason to look beyond its current owner base for new sales. A primary obstacle is that, at present, few people think of Subaru as a sedan-maker; they are more inclined to associate the brand with crossover SUVs.
But the new four- and five-door 2012 Impreza models are mass-market sedans, or in the case of the five-door, wagon-like utilities. Though many American buyers eschew hatchbacks, the five-door Impreza is perhaps the most well-proportioned model of the line.
The 2012 Impreza is revolutionary in other Subaru-like ways. Its all-new 148-horsepower 2.0-liter four-cylinder engine, downsized from last year's 2.5-liter, produces similar power and performance, while increasing fuel efficiency by a massive 36 percent. At a stellar 36 mpg Highway/27 mpg City on the EPA cycle, the Impreza is the most fuel-efficient all-wheel-drive car in America. At the same time, while many competing cars continue to get heavier, the new Impreza, depending on model and equipment, has lost up to 165 pounds in curb weight, contributing to increased fuel efficiency.
Subaru has long established itself as a builder of rugged small cars. According to the company, 95 percent of Subarus sold in the past 10 years are still on the road. With the fourth-generation Impreza, Subaru fully expects to outsell the previous model, the best-selling Impreza ever. Only the loss of six weeks' production due to the tsunami in Japan slowed 2011 sales. But the efficient new 2012 Impreza, starting at the same base price as the 2011 Impreza, achieves a significant jump in efficiency, value for dollar and appeal. Subaru means to climb still higher in the market with a car that will beckon to more Americans.