2012 Subaru Legacy Walk Around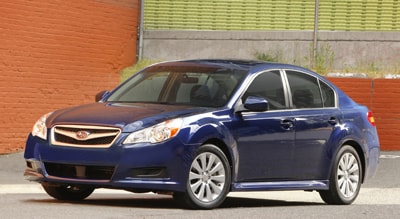 The Subaru Legacy looks sleek with its coupe-like roofline. However, the Legacy looks a bit odd in profile when you study it, slightly platypus-like, with its long rounded nose. Aggressive wheel arches and edged flares are enhanced by handsome alloy wheels.
In front, Subaru's badge (the Pleiades constellation, a.k.a. the Seven Sisters) is set within a bright flying wing that spans the chrome-outlined grille. Character lines arc from the grille to form power bulges on the hood as they taper upward to the A-pillar.
There's a short rear deck with squared-off rear valances (smooth and not boxy), part of the standard aero package, giving an impression of size.
On the Legacy 2.5GT, a prominent hood scoop sucks in air and tunnels it to the turbocharger intercooler. Along with the 18-inch wheels with wide-profile tires and twin-tip exhaust, it's clear that the GT means business.
The rigid Legacy chassis uses a fully reinforced cage of high-strength steel. Fluid engine mounts help reduce noise.
Interior
The Subaru Legacy cabin is nice, with quality interior materials all around. We found the front bucket seats wonderfully comfortable. The three-spoke steering wheel isn't as handsome as the rest of the interior, although the optional leather wrap is nice. Visibility in all directions is good.
The rear seats, especially in perforated leather, fit as nicely as the fronts, with a scalloped seatback that gives more knee room. The rear doors allow for easy entry and exit.
Trunk space measures 14.7 cubic feet, which is large enough for four sets of golf clubs. Gas strut supports, no intrusion into trunk space: quality detail, for such an affordable midsize car. Typical for Subaru.
The center console offers plenty of space and features a standard electric parking brake, which includes the Hill Holder system that lasts until the car accelerates (not just a couple seconds as in the previous generation). The four-gauge instrument panel is clean and stylish, with a multi-information display standard. The controls on the center stack are all well done. The electronically controlled HVAC system offers powerful and quiet air conditioning and optional dual zone control. The ambient lighting for the console is pleasant.
Underway, the Legacy is very quiet inside, both four-cylinder and six-cylinder but especially the six-cylinder. That's thanks to a number of things, such as framed door glass and double sealing of all four doors.