2012 Subaru Outback Introduction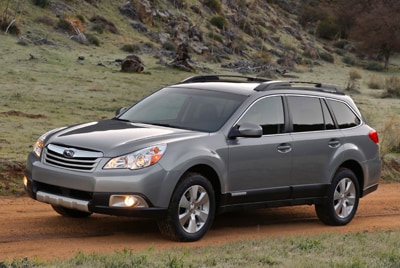 The Subaru Outback wagon is a superb vehicle on dirt and gravel roads, in the snow, heavy rain, or anything that calls of traction and sure-footedness. Equipped with all-wheel drive, the Outback is ready for active outdoor use.
Outback was redesigned for the 2010 model year. Changes since then have been modest. 2012 Subaru Outback models offer an Alloy Wheel Package with fog lights and cold-weather equipment. Audio systems have been upgraded on 2012 Outback Premium and 2012 Outback Limited models.
The Outback suspension, transmission and all-wheel-drive system are geared for control, comfort and stability on gravel roads and in inclement weather. All Subaru models are all-wheel drive, aiming for sure handling and traction in marginal conditions. They are most popular in the New England, Pacific Northwest, and Rocky Mountain states. The engines feature horizontally opposed pistons, the so-called boxer layout that Porsche also uses. This results in strong torque for accelerating up hills while helping maintain a low center of gravity for improved handling.
We found the Outback to be an exceptionally capable car on unpaved forest roads. Extensive driving on Montana's back roads revealed that its tough, supple suspension could handle rough roads, and its all-wheel drive performed well in all sorts of slippery conditions. Out on the open highway the Outback is smooth and comfortable and feels like a regular car. During a week of nasty Pacific Northwest winter, and it gave us a sense of security like few cars can, confident that with the Outback under us we could breeze through whatever weather we were dealt.
Two engines are available, balancing efficiency and performance. Best government-rated fuel economy is an EPA-estimated 22/29 mpg City/Highway for the 170-horsepower 2.5-liter four-cylinder with the continuously variable transmission (CVT). For maximum performance, a 256-hp 3.6-liter six-cylinder is available, mated to a 5-speed automatic transmission. Neither engine uses forced induction or turbocharging to achieve its rated output, and both run on regular unleaded fuel.
Four-wheel independent suspension is standard, with MacPherson struts up front and double wishbones in the rear. The wishbone suspension delivers a smooth ride and enables a larger rear cargo area than would be possible with a strut-type rear suspension.
The Outback emphasizes cargo carrying, with large doors that swing open wide, and good interior dimensions for cargo room.