2012 Subaru Outback Summary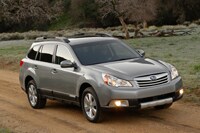 The Subaru Outback is a thoughtful, well-balanced all-wheel-drive wagon that has unique character. It provides plenty of utility in a modern package, and the optional flat-six engine adds to its on-road performance. It remains faithful to the character attributes Subaru has always offered, something current owners will appreciate.
John Stewart contributed to this NewCarTestDrive.com report after his test drive of the Outback near Missoula, Montana; Sam Moses reported after driving the Outback in the Pacific Northwest.