2012 Subaru WRX Introduction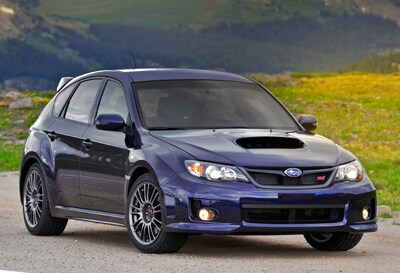 The Subaru Impreza WRX is a hoot and a half to drive and the WRX STI is two hoots. An evolution of World Rally Championship cars, the WRX is reasonably practical for everyday use. Loosely based on Subaru's Impreza compact, the WRX models are economical to operate in light of their performance and, more than ever, make excellent cars for commuters who like a little spice in their daily drive.
WRX models are available in four-door sedan and 5-Door hatchback styles.
The current-generation WRX was launched as a 2008 model. There were suspension and drivetrain revisions for 2011. 2012 WRX models get a more sophisticated navigation system with a 6.1-inch touch screen display, voice control, and other advanced features.
The 2012 WRX and WRX STI are in fact derived from the previous-generation Impreza, which Subaru built for the 2008-2011 model years. (The Subaru Impreza 2.0 is all-new for 2012.) But with their wider track, bulging fenders, and prominent spoilers, there's no mistaking a WRX or STI for an ordinary Impreza of any vintage. And so you won't mistake a 2012 WRX for a 2011, Subaru has deleted some bright trim the sedan's trunk lid and added silver highlights to the headlight bezels.
Despite its racy appearance and serious performance, the WRX is reasonably refined and easy to live with during the typical commute. All models come with iPod control and Bluetooth. High-grade audio and even leather seating are available.
The WRX and STI achieved cult status among driving enthusiasts and boy racers, but more than ever that image is too narrow and confining. These cars have decent room in the back seat and good cargo capacity. Their all-wheel-drive system can legitimately be considered a safety and foul-weather advantage, even if, with the powerful, turbocharged engines in the WRX, it's marketed as a performance enhancement, a role it also fills.
These are drivers' cars: no automatic transmission is offered. Yet buyers seeking a smaller car with lots of safety features should like the WRX. All models come with all-wheel drive, electronic stability control, a sophisticated anti-lock brake system and good crash-test performance; a good set of winter tires make them near unstoppable in bad weather.
The WRX sedan and hatch come well equipped, with nice seats, automatic climate control, a good stereo and more horsepower than all but a couple cars in this size/price class. The WRX is powered by a 2.5-liter, 265-horsepower turbocharged four-cylinder, arranged in Subaru's familiar horizontally opposed, or flat-four, configuration. The WRX offers a bang for the buck that surpasses many more expensive sports sedans.
The WRX STI is a substantially upgraded performance version. STI stands for Subaru Technica International, the high-performance division that made the WRX famous through considerable success in the World Rally Championship. Nearly every major mechanical system is unique to the STI: 6-speed manual transmission, special suspension and brakes, unique interior appointments and a high-tech, manually adjustable all-wheel-drive system. Yet the STI's centerpiece is a higher-tech version of the 2.5-liter four, generating 305 horsepower. Its quarter-mile acceleration times match those delivered by some muscle and exotic sports cars.
While the STI offers increased performance and driver involvement relative the WRX, few feel shortchanged in the WRX. Subaru's claim is that buyers like both and the choice frequently comes down to price: The STI is about $9000 more than the WRX and offers more performance for the extra coin.
To be sure, the WRX costs more than your typical front-wheel-drive compact, and the performance and all-wheel drive come with a mileage penalty. Still, we think the WRX models are a good deal, offering lots of performance for the dollar in a car that's easy to live with every day. Primary competitors for the WRX and WRX/STI are the front-drive Mazdaspeed 3 and Volkswagen GTI, and all-wheel drive Mitsubishi Lancer Ralliart and Evolution. A new WRX should be not far off, however.