2012 Toyota 4Runner Driving Impressions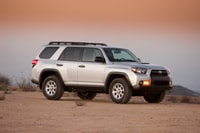 It's in bad weather that the full-time 4WD system in the Toyota 4Runner Limited really shines. It's designed to shift torque between wheels as the vehicle rolls over inconsistent surfaces, so it's ideal for use on roads with slippery patches or wet spots. We found the 4Runner Limited tracked cleanly and accurately through corners and over compromised surfaces.
The brake system feels strong and progressive at the top of the pedal, and even in the rain, lends itself to a secure, confident feeling. The front discs have four-piston fixed calipers and 13.3-inch brake rotors. They are augmented with four-sensor, four-channel ABS and skid control systems.
Full-throttle acceleration is quite brisk for a seven-passenger, family SUV. From a standing start, the 4Runner will hit 60 mph in about 8.6 seconds, and feels good doing it. The full-time 4WD system hunts a little from a standing start, so a small amount of torque initially tugs at the steering wheel, but the 4Runner steers true after a quick chirp off the line. High-speed passes are similarly exuberant. Pin the throttle pedal and the transmission with kick down two gears and let the engine rev to 5500 rpm, making it easy to swoop by lines of traffic and accelerate up steep grades. Decide to pass and the next thing you know, the speedometer says 90 mph. Shifts are smooth and progressive, without much lash or thump, even at full throttle.
Fuel economy is an EPA-estimated 17 mpg City and 22 mpg Highway with 4WD. Driven normally, the V6 will deliver decent mileage for a 4800-pound SUV. The fuel consumption readout said we had gotten 20.3 mpg after a day of mostly highway driving.
Maximum towing capacity is 5,000 pounds, enough for light boats, ATVs, snowmobiles, and motorcycles.
Steering effort seemed about right to us, neither too firm nor too light. The engineering involves a variable flow, power-assisted rack-and-pinion arrangement that uses a variable gear-ratio steering rack. So not only does the hydraulic assist adjust based on conditions, but the rack itself is has a different tooth arrangement at the ends of the rack. The result is reasonably precise steering that is strong and easy at all speeds, even at full lock. It's not what you'd want for a sports car, but for an off-road-going, seven-passenger SUV, it's right.
The Limited model looks more sophisticated with its 20-inch wheels and lower-profile tires, and it likes corners better than the other models, a benefit of the tires and the X-REAS suspension setup. But on lumpy roads, the stiffer wheel and tire combination makes for a choppy ride, especially noticeable to back-seat riders. The Limited has a diagonally cross-linked shock absorber system, called X-REAS, that helps damp out pitch and roll, and it works to limit body roll. We like this system on winding mountain roads. But sharper impacts do come through due to the low-profile tires.
The Trail Edition rides about as well as the Limited because of its more compliant suspension and taller tire sidewall, and it transitions through corners only slightly less cleanly. That's because the optional Kinetic Dynamic Suspension System (KDSS) anti-swaybar disconnect capability allows for thicker stabilizer bars on the Trail Edition. Therefore, on-road cornering power can be preserved without compromising off-road suspension compliance. The Trail Edition, with the thicker bars, did feel a little a little more jittery at speed on the highway but soaked up larger impacts best of all. The Limited, more stylish and better handling, runs along smoothly until larger impacts come into play.
We had an opportunity to drive a 4Runner off road. The Trail Edition is the 4Runner for those who plan to use the vehicle for recreation so that was our choice. Almost like an FJ Cruiser with four doors, the 4Runner Trail Edition is set up to cruise to a trailhead, confidently drive on the trail itself, and return to the highway. That makes its capabilities and packaging advantages ideal for those who camp, hunt, fish or regularly travel backcountry roads. It can ford up to 27 inches of water and has 9.6 inches of ground clearance. Skid plates are included for the engine, transfer case and fuel tank. Two tow hooks are mounted on the front although in a low position that might make them hard to reach if stuck in a stream or snow bank. A rear receiver hitch is standard, for towing up to 5000 pounds, and its presence makes for easy vehicle recovery from the rear. Just as important, the 4Runner has the durability to do this stuff without wearing out in one season.
We found the manual part-time transfer case easy to operate that comes on the SR5 and Trail grade. There is a stubby lever that actuates 4WD High Range and 4WD Low Range. Sometimes lever-actuated part-time systems can be balky, but on our Trail Edition we were able to slip in and out of 4-Low without any dithering. The Trail Edition's part-time system is shared with the SR5.
The Limited gets a dial-actuated full-time system that is always on, ready for changing road conditions or inclement weather. The Limited is better for ice and wintry conditions when grip is inconsistent. It automatically apportions power to the tires with the best grip. The driver need do nothing to engage it.
The Trail Edition trades surprisingly little for the advantages it offers. Ride quality is about as good as the other versions, and steering and cornering are only slightly less crisp. Tire noise is only slightly increased, at least inside the cabin. Meanwhile, traction is markedly improved by the addition of an electronic locking rear differential, the KDSS system, and traction control systems with adjustable rates of feedback.
One system, Crawl Control, allows the driver to dial in speeds from 1 to 3 mph as the driver concentrates on steering across difficult terrain. We tried it, uphill and down, and sure enough, the system controls throttle and braking to maintain a steady speed. When that speed seemed to be too rapid for the suspension to handle comfortably, we adjusted the dial to give us a slower pace. At 1 mph, progress is very slow, safe and predictable.
Another system, multi-terrain select, allows for dialing in the rate of wheelslip when driving off-road. As a result, the Active Traction Control (A-TRAC) system can be just as effective in mud or sand as it is on rock. When even more traction is called for, an electronic locker in the rear axle actuates with the push of a button. KDSS is optional, but it's an excellent off-road suspension enhancement.