2012 Toyota 4Runner Summary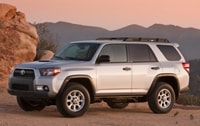 The Toyota 4Runner can hold up to outdoor recreational use that would prove destructive to car-based crossover SUVs. Given that capability, the 4Runner stands out as a truly multipurpose vehicle with authentic, structurally based recreational capability. With three different formats to choose from, and a variety of specialized equipment, the 4Runner can be configured for a wide range of needs and budgets.
John Stewart filed this report to NewCarTestDrive.com after his test drive of the Toyota 4Runner near Solvang, California. Additional material by John F. Katz.