2012 Toyota Avalon Introduction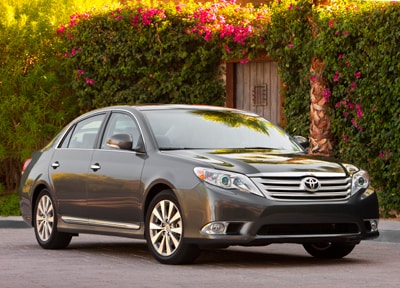 Avalon was mildly re-styled and updated inside for 2011. Avalon carries over for 2012. An all-new 2013 Avalon is being launched in late fall 2012.
The 2012 Avalon offers smoothness, overall easy operation and uncomplicated functionality. Avalon is more tranquil than many sedans that cost a lot more. Empty-nesters will appreciate it for its comfort and flexibility, and families for its space, low operating cost and extensive list of standard equipment.
The 2012 Avalon comes in two models: loaded, and really loaded. The base Avalon comes with just about everything any driver really needs, and then some, including leather seating, dual-zone automatic climate control, and a good stereo with Bluetooth, XM satellite radio and a CD changer. The Avalon Limited adds luxury class ventilated front seats, a power-operated rear window sunshade and mega-watt JBL surround audio.
Its styling may not be flashy, but Avalon's interior is first rate, It's finished with pleasing materials, equipped with ergonomically functional controls and filled with storage nooks. The front seats are roomy and comfortable, the back seat downright spacious. The Avalon rides as comfortably as any car made, almost impervious to the worst roads we travel.
The 268-horsepower Avalon delivers good acceleration and mileage for such a roomy car. Its automatic transmission is quick shifting and decisive. It's pleasant to drive for just about any purpose, but it's never sloppy, and it won't fail you if you happen to be in a hurry. The standard array of safety equipment surpasses that required by federal law, including a knee-protection airbag for the driver, and Avalon performs well in government and insurance-industry crash tests.
Bottom line, the Toyota Avalon is easy to like and even easier to enjoy. A test drive might leave you wondering why anyone seeking a smooth, quiet, roomy sedan would pay more than it takes to buy an Avalon.