2012 Toyota Camry Driving Impressions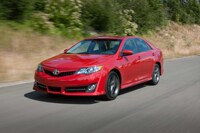 Ironically, after driving four models of the 2012 Toyota Camry, we think the model we didn't drive might be the call. That would be a Camry SE with the I4 engine, rather than our V6. That's because the Camry SE is tighter than the Camry XLE or LE; and the 178-hp I4 is quick, silent and smooth, no matter that the 268-hp V6 is faster. Both the I4 and V6 are carried over, the I4 new in 2010 and V6 new for 2011.
On the Camry XLE, using the lighter 6-speed for the I4, we noted good ratios, smooth upshifts and invisible kickdowns around town. With the I4, to get 30 mpg with that kind of performance is great. Toyota boasts a range of 650 miles, at 35 highway mpg.
Four-cylinder and V6 models use a 6-speed automatic that on the Camry SE comes with paddle shifters and normal and sport modes. No problems with the way the transmissions were programmed; both 5th and 6th gears in the V6 transmission are overdrives, with 6th being super overdrive at 0.068:1, for highway fuel mileage. There's a big leap between 1st and 2nd gears, but the 248 foot-pounds of torque in the V6 can make it.
The even-keel Camry SE suspension might be too firm for some; we didn't find it uncomfortable, but did find the softer Camry XLE more relaxing around town. We preferred the SE's tighter steering in all circumstances. Slightly bigger brakes felt good too, sensitive with good feel.
The Hybrid uses a new 2.5-liter Atkinson Cycle engine in 2012, with more horsepower and electric power than before. It feels like a totally different car than the I4 or V6. It slows everything down and it feels bigger; even the seats feel wider. Don't expect much from acceleration, cornering, or quick response, although Toyota says 0-60 acceleration is 0.5 seconds quicker than before.
Braking is regenerative and sensitive, sometimes diving the nose. It's quieter, when you're not straining at throttle, but the tire noise on a rough freeway is still there.
Eco mode reduces the throttle opening, slowing the car way down, although Eco defaults to Power mode when you need more speed. EV mode with a good charge couldn't get us out of the parking lot. It wouldn't even run the air conditioner with the car at a standstill.
The Hybrid is more slippery in the wind, with underbody fairing panels lowering the Cd to 0.27, but a small blue badge is the only visible difference.
The Camry XLE Hybrid is rated at 40 combined mpg (on Premium gasoline because the compression ratio with the Atkinson Cycle is raised to 12.5:1). We actually saw 45 mpg on our test run, probably because we were aghast at the idea of booting it.