2012 Toyota Camry Introduction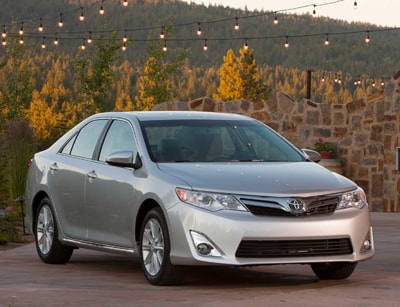 The 2012 Toyota Camry is the seventh generation, with redesigns coming every five years since 1982. Toyota claims that the new Camry is not only the current bestselling midsize sedan, but also the safest, quietest, and most fuel-efficient. Five models of the 2012 Camry range from the stripped-down L to the sport-tuned SE to the Hybrid.
New for 2012, the Camry hasn't changed its size, as the wheelbase, length, track and height are within fractions of an inch of those of the sixth-generation 2011 model. But the sheetmetal is totally new, and a new roofline makes it slightly more slippery. The 2012 Camry's lines are attractive, and it's clearly more contemporary than the 2011. What Toyota calls aero-corner design enhances this image. There are four new colors: Clearwater Blue, Attitude Black, Cypress Pearl and Cosmic Gray Mica.
The 2012 Camry interior is all new, both design and materials. Interior dimensions stay the same within fractions of those of the previous version. There's a bit more backseat legroom, and some interior parts have been thinned to create more eye, knee and elbow room. The instrument panel is pretty and functional, storage spaces well thought-out, and a 60/40 split rear seat is standard. A new leather dashboard is neat and stylish.
For powertrains, the standard I4 and optional V6 engines are carryovers from 2010 and 2011, respectively. Six-speed automatic transmissions are standard. The standard 2.5-liter I4 has double VVT-I technology, making 178 horsepower. The 3.5-liter V6 produces 268 horsepower. Fuel economy is an EPA-estimated City/Highway 25/35 mpg with the four-cylinder, 21/30 mpg with the V6.
We were impressed with such smooth and responsive acceleration from the standard four-cylinder while averaging 30 miles per gallon, and Toyota boasts a range of 650 miles.
The 2012 Camry boasts a new chassis with increased rigidity, using more high- and ultra-high-strength steel, as well as 56 more welded spots. It reflects ongoing research in impact energy management.
The tuned suspension in the Camry SE might be too firm for some; we didn't find the SE uncomfortable, but we did find the softer Camry XLE more relaxing around town. We preferred the SE's tighter steering in all circumstances.
The Camry Hybrid uses a new 2.5-liter Atkinson Cycle engine, with more horsepower and electric power than before. It feels like a totally different car than the I4 or V6, as it slows everything down and makes the vehicle feel bigger. The 2012 Camry Hybrid LE is rated by the government at 43/39 mpg, Camry Hybrid XLT at 40/38 mpg.