2012 Toyota Camry Summary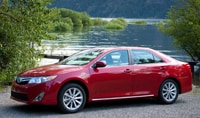 The Toyota Camry is redesigned for 2012, using a two-year-old I4 engine, one-year-old V6, and new hybrid. It features a more rigid chassis and sleeker body, with a smooth 6-speed automatic transmission. Camry powertrains are so different you should consider your needs or drive them all before you choose. The I4 is exceptional, with good smooth response while delivering 30 mpg combined. The suspension is comfortable and all-new interior clean and convenient, while infotainment options can move the Camry upscale.
Sam Moses filed this NewCarTestDrive.com report from the Columbia River Gorge.