2012 Toyota Matrix Driving Impressions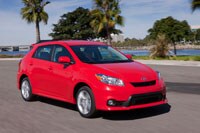 The Toyota Matrix offers a choice of two engines: We found the 1.8-liter engine in the Matrix L sportier and more enthusiastic than the 2.4-liter in the Matrix S. It's not as powerful, but it's more eager and entertaining in response, more of a driver's engine.
The smaller engine also gets significantly better mileage than the 2.4-liter, averaging 4-5 mpg higher ratings. With the 4-speed automatic you'll lose 1 mpg or so from the 1.8-liter and be pushing it fairly hard for onramps or carting a full load up a hill. We found the 5-speed manual version quite happy to have you beat the snot out of it and still get decent mileage. So we recommend getting the manual if you get the 1.8-liter.
Fuel economy ratings for Matrix L with 1.8-liter engine are 26/32 mpg City/Highway mpg with 5-speed manual transmission, 25/32 with 4-speed automatic. The 1.8-liter is rated at 132 horsepower at 6000 rpm and 128 pound-feet of torque at 4400 rpm. This 16-valve four-cylinder engine features Dual VVT-i (Variable Valve Timing with intelligence) on both the intake and exhaust camshafts that helps it balance performance and economy.
The 2.4-liter used in the Matrix S is a 16-valve DOHC four-cylinder engine with VVT-i is rated at 158 hp at 6000 rpm and 162 lb.-ft. of torque at 4000 rpm. The 2.4-liter Matrix S offers a choice of 5-speed manual or 5-speed automatic except the Matrix S AWD version which only comes with a 4-speed automatic. The 2.4-liter engine nets 26 hp over the 1.8 but it's the additional 34 foot-pounds of torque you'll notice and use the most because winding it up doesn't add a lot of speed or any pizzazz, it simply adds more noise. Both engines use Regular unleaded, significant given that some cars call for Premium. The 2.4-liter engine with 5-speed automatic transmission gets an EPA-rated 21/29 mpg. Matrix S AWD with 4-speed automatic is rated 20/26 mpg. Matrix S with 5-speed manual is rated 21/28 mpg.
The midrange power makes the 2.4-liter practical for scooting around town but it's less of a driver's engine as it merely goes about its business. Clutch and shifter effort from the manual transmission are relaxed, the latter giving the gear requested but not as precise as class leaders.
All the automatics behave nicely.
Regardless of drive system or engine, the Matrix comes across quite polished for an economy car, the only negative is a tendency to catch and grab on bumpy roads and surface transitions under acceleration.
The Matrix AWD is the best choice for the Snow Belt. Its 4-speed automatic transmission and hardware in the electronically controlled all-wheel drive are similar to the system used in the RAV4 (though the Matrix doesn't get the RAV's 4WD Locked mode). Normally, the all-wheel-drive system in the Matrix S AWD sends all power to the front wheels, which is best for fuel economy. But when slippery conditions demand it, the system automatically diverts up to 45 percent of the power to the rear wheels. There is no driver action required and you'll never know it's working until you see a front-wheel-drive Matrix stuck in the snow next to you while you move onward. Any dynamic change you note on test drives is more likely a result of the extra weight than the added rear drive. We couldn't feel much difference in the way they drove unless we drove really hard. The Matrix S AWD might handle or ride slightly better because it comes with an independent rear suspension, which delivers finer control of suspension travel, and perhaps more suspension travel, maintaining rear tire contact and a softer ride.
Disc brakes are used on all models and they come with ABS and Brake Assist functions to help the driver maintain control in emergency stopping situations. The disc brakes get bigger as you move up the model line, yet all get the job done fuss-free; you're not going to be going that fast in a Toyota Matrix.
If there's a weak point in the Matrix driving dynamics, it's the electric power steering. (And we aren't blaming electric steering as a concept because other cars use it with better results.) Steering effort is low for parking maneuvers and gets higher with speed and cornering load as you would expect, and it goes where you point it. We found the steering feels relatively dull and doesn't have a lot of return-to-center force, so you may find yourself steering back to straight ahead more than you're used to.