2012 Toyota Sequoia Walk Around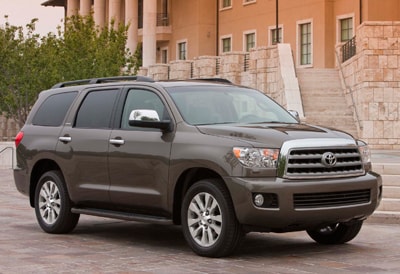 The Toyota Sequoia is long and wide, with a long wheelbase, and is designed to look tall and oversized, so as to project strength from a distance. It's every inch a full-size SUV. The Sequoia shares design features with the Tundra pickup from the front bumper to the B-pillar, along with numerous drive train components.
The low windshield angle accentuates bulk below the hood line, and large high-mounted headlamps add an alert look to a cabin-forward design. Exterior mirrors are large, because they have to be for towing, but careful smoothing has reduced wind noise, as does the use of partially hidden wipers that likewise must be very large to sweep the windshield. The design has a drag coefficient (Cd) of 0.36, respectable for a full-size truck, but remember that aerodynamic resistance is Cd times frontal area, so keeping highway speeds moderate will pay off in less fuel consumption for this big box.
From the side, large, strong-looking door handles are apparent, the kind you'd appreciate if you wear gloves. All the roof pillars are big as well, and the flare in the bodywork to cover the rear tires makes the area between the wheels look smaller than it is. The rear doors open wide, for easy child seat and passenger access. Parking sensors and a pair of rear camera display choices enable easier parking and the ability to avoid people or toys lurking in the driveway.
The receiver hitch is well incorporated in the rear bumper, and the bumper has decent low-slip top for loading the roof rack. To avoid damage from shopping carts or narrow tree-lined forest trails the taillights are up high and the rear reflectors are inset in the bumper where they get dirty quickly.
Interior
The Toyota Sequoia cabin is built for passenger comfort, with generous legroom and headroom. Seating is designed for long days of driving, with a comfortable, broad driver's seat with power lumbar support. The seats have soft, wide bolsters, easy to climb over getting in and out, and the kind of adjustability that allows a driver to shift around during long drives. The SR5's cloth and Platinum's perforated leather each offer two colors, Graphite and Sand Beige, each as bland as they sound; to these the Limited adds Red Rock, a still-muted but more interesting, Southwest-flavored shade suggesting of bricks or red-clay ceramics.
The Sequoia revels in bigness. The interior is conspicuously wide and offers ample legroom and shoulder room. The dash is simple and focused, with two central gauges, speedometer and tachometer, flanked by fuel, temperature and voltage gauges. Bright rings accent the instrumentation.
A very large rectangular shifter dominates the metallic center strip area, and behind it is a wide central console designed to hold 12 CDs or four DVD cases. The four-spoke steering wheel contains controls for AC, Bluetooth-capable phones and audio functions, varying by grade. The steering column tilts and telescopes, and it's electrically and memory-linked on Platinum.
Switches and dials are used to control windows and the HVAC system. The HVAC system is designed to define and maintain three different climate zones, two in the front, and one in the back. We think Toyota does a good job when it comes to switch feel and operational consistency of dials and other touch points.
Two overhead compartments are suitable for sunglasses, and the control strip has sunroof controls. An electrochromic rear view mirror is standard except on SR5, and the mirror contains built-in garage door opener buttons operating on three different frequencies. If you choose a backup camera without navigation the image is displayed in the mirror.
The sun visors are huge, and they slide on their hangers, providing effective shade for driver and passenger all day long. On the A-pillar are hefty grab handles, with grips big enough to support body weight as you swing into the seat.
The interior is notable for thoughtful features that increase utility, such as a compass, map light, automatic up-and-down jam protection for front power windows, and back door power window. There are eight cup holders, eight bottle holders, console surfaces, everything you would want for eating in the Sequoia while putting away the miles. And then, there's lots of door pocket space for trash.
Second-row seating carries two or three people; it's roomy but not as stretch-out as some other large utilities. The split bench arrangement reclines and slides fore-n-aft, and arguably makes the most sense for a truck like this. Either way, access to the third row is good enough for anyone that fits back there, and that includes adults.
The Sequoia is especially designed to make the third-row passenger seats more comfortable, and more useful, more like real seating for adults. To that end, the third-row seats have almost as much leg room as the second-row seats but lose three inches of headroom. For comparison a 1.4-inch-longer Ford Expedition offers at least two inches more legroom and a bit more headroom in the back two rows. However, for those who often make use of the third row, the Sequoia's standard interior layout is better than many SUVs we've seen, in which the third-row seats constitute emergency seating for smaller people only. Those who do not need eight-passenger capacity can configure the Sequoia with captain's chairs in the second row, which shifts the priority to second-row passenger comfort.
The Sequoia is one of the very few SUVs with a retractable rear hatch window. It also has a closed, removable ashtray that is dish-washable, and a cigarette lighter up front.
Last but not least, the Sequoia has ample cargo room behind the third row, and even more if you fold it down. It offers 120 cubic feet behind the front seats, 67 behind the second row, and 19 behind the third row. The Expedition has roughly the same behind the third row but less otherwise; if you need considerably more you'll be checking into Expedition EL and the Chevy Suburban. When Sequoia's third row is folded flat, large baggage or cargo can be loaded without removing the seat. It is a well-organized cargo area, even having tow hooks that can hang grocery bags. The seat folds flat manually in SR5's, and upgrades to a power folding feature in Limited and Platinum models.