2012 Toyota Tundra Driving Impressions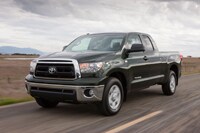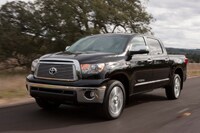 Despite the engines' overhead-camshaft, four-valve-per-cylinder architectures, the Tundra V8's tend to make their peak power earlier at lower rpm, where you want it in a truck, than most competitors' engines. All the power figures quoted below are on gasoline; some manufacturers quote different ratings on E85.
The 4.0-liter V6 is sufficient for propelling a two-wheel drive Tundra and towing a lighter trailer, say 3500 pounds or less, on relatively flat terrain. It's 270 hp, about 30 hp shy of Ford's more economical 3.7-liter V6, but the Toyota V6 doesn't need to be revved to 6500 rpm and torque is equal at 278 pound-feet. GM's 4.3-liter V6 (195 hp, 260 lb-ft) and Ram's 3.7-liter V6 (215 hp, 235 lb-ft) can't compare on output, economy, or sophistication. It's matched to a 5-speed automatic.
The 4.6-liter V8 delivers 310 horsepower, 327 pound-feet of torque. Fuel economy is on par with Ram's 4.7-liter and GM's 4.8-liter. The Toyota 4.6-liter is smooth enough to find use in Lexus luxury SUVs. Ford's 5.0-liter delivers considerably more power (360 hp, 380 lb-ft), with similar EPA ratings. Tundra's 4.6 V8 deserves consideration for general-purpose use where absolute fuel economy nor towing capacity are paramount. It comes with a 6-speed automatic.
Tundra's biggest engine is the 5.7-liter V8 with 381 hp, 401 lb-ft of torque. Ram's Hemi slightly eclipses those values (390 hp, 407 lb-ft) while the Nissan Titan works more like a truck engine with 317 hp and 385 lb-ft at the lowest revs of any half-ton V8. GM frames Tundra's 5.7 with a 5.3 V8 (315 hp, 335 lb-ft) that gets better mileage and a 6.2 V8 for bigger cabs only (403 hp 417 lb-ft). Ford has two big engines, a 6.2 V8 (411 hp, 434 lb-ft); and a twin-turbo 3.5-liter V6 dubbed EcoBoost that brings 365 hp and 420 lb-ft of torque at just 2500 rpm and fuel economy superior to Tundra, Ram and GM V6 engines.
On the road, power delivery from any Tundra engine is linear, and commendably strong at low engine speed. This is especially so in the 5.7-liter, where 90 percent of the torque is on tap from 2400 rpm to 5500 rpm. Very impressive is the absence of any discernible surge sometimes associated with overhead-cam, multi-valve engines. We find the 5.7-liter V8 a delightful engine, very responsive when quick acceleration is needed, smooth and powerful when cruising. It's our choice. However, lighter Tundras will bring similar rewards with the smaller engines.
Maximum towing capacity of 10,400 pounds applies to an unloaded Tundra Regular Cab with the 5.7-liter V8. A similarly configured Ram Hemi can just edge past that (towing 10,450 pounds), whereas GM crew cabs tend to have the advantage in that division (at 10,600 max), and the Nissan Titan (which offers no regular cab) stays near 9,500 max. The giant in this field is now the EcoBoost-powered F-150, which, with the right gearing can tow 11,300 pounds behind any cab configuration. It's worth noting, however, that unless it's quoted per SAE J2807 you don't know the standard behind the rating. We generally try to avoid towing near the maximum load ratings.
For towing trailers in the 4,000- to 7,000-pound range the Tundra does a superb job. Overkill with tow rigs is nice on long nights, in inclement weather, during strong winds or dealing with hilly country. For routine towing of trailers anywhere near the 10,000 pounds you'd be better served by a heavy duty truck from a Ford, GM, or Ram.
Based on towing a variety of trailers from sea level to 5,000 feet, we're here to tell you the Tundra 5.7-liter has more than enough pulling power and appropriate gearing. The Tundra often outruns the competition while getting better fuel economy. Unlike some other half-ton pickups, the Tundra does not offer an integrated trailer brake controller. We'd prefer that it did, but a host of aftermarket controllers do the job well.
Overall, both the 5-speed and 6-speed automatic transmissions work well. Gear changes are smooth, though more apparent when trailering. Downshifts during braking on downhill grades are well managed, properly timed and helpful. In sum the Tundra's transmissions are unobtrusive, which in a truck is usually the best compliment, because in a truck if you frequently notice how the transmission is doing it's job, it probably isn't doing it as well as it could. The Tow/Haul mode is designed for better trailer towing operation and improved transmission durability for loads more than approximately half rated towing capacity.
Ride and handling in the Tundra are both up to snuff. Steering response is sure and certain, though perhaps not as advanced as an F-150 with any engine except the 6.2. Somehow, Toyota's suspension engineers have delivered a setup that leaves no doubt the driver is operating a truck, but isn't reminded of it at every bump and dip. Over severely uneven pavement, the solid rear axle makes its presence known with a slightly skippy feeling, but the Tundra's unladen rear end feels less skittish than some other pickups, and there is rarely any disruption that even instantaneously moves it off the driver's intended path. As with most pickups, the ride gets bouncy on bumpy freeways with an empty bed; any pickup may have the wrong wheelbase to avoid tiring bobbing on expansion joints so do your test-drive on a variety of road surfaces.
Braking is solid, with firm pedal feel. The Tundra's standard four-wheel discs are a first, and still exclusive for a Toyota pickup, as the smaller Tacoma makes due with rear drums. The ABS includes electronic balancing of brake force and stability control is standard on every Tundra.
The TRD Off-Road Package delivers excellent handling on pavement, and it's especially noticeable when Tundras so equipped are driven quickly on winding, two-lane roads; the TRD Sport package does even better if the roads aren't too rough.
For more severe four-wheel-drive use, the Tundra offers decent articulation and good low-range gearing. When enabled the traction control can be intrusive. Unlike many pickups, the Tundra 4WD also has a switch that backs off the thresholds for deploying the side-curtain airbags. This can be helpful on side-angle trails and ditches that might otherwise trigger a side curtain deployment.