2012 Volkswagen CC Introduction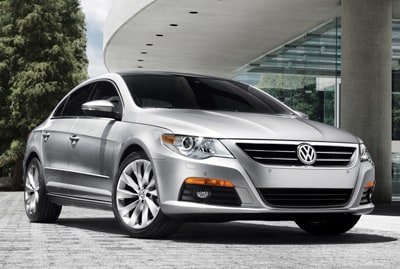 The Volkswagen CC is a four-door coupe, which may be a contradiction in terms because coupes are traditionally thought of as having two doors, not four. So the CC is a four-seat sedan with a sleek, low stance. It looks more expensive than it is.
The CC, for Comfort Coupe, was launched as an all-new model for 2009 and carries through 2012 with few changes. The CC will be revised for 2013 with new front and rear styling and more standard equipment.
The interior design and materials are exceptional. The optional two-tone stitched leather bucket seats are downright Italian-like. The cabin feels racy due to the steeply raked windshield and distant dash. It's cozy inside and there isn't as much front legroom as in the Acura TSX, Nissan Maxima or Lexus IS. The rear bucket seats accommodate just two in cozy comfort with decent legroom but limited headroom. Cargo space is small for the class, comparable to that of the Lexus IS.
The Volkswagen CC is equipped with a 2.0-liter turbocharged four-cylinder engine rated at 200 horsepower. We found it impressively powerful and amazingly smooth. It uses front-wheel drive and is available with a choice of 6-speed manual or 6-speed automatic Direct Shift Gearbox. The 2012 Volkswagen CC with the 2.0-liter engine gets an EPA-estimated 22/31 mpg City/Highway on Premium fuel with the DSG, 21/31 mpg with the 6-speed manual.
The Volkswagen CC VR6 4Motion features the narrow-angle 3.6-liter V6 rated at 280 horsepower and 17/25 mpg. It comes with all-wheel drive. The 2012 Volkswagen CC VR6 4Motion can accelerate from 0-60 in less than seven seconds, according to Volkswagen. The VR6 4Motion is a pricey package, however.
We found the highway ride smooth and solid, firm but not harsh. It isn't a high-performance car, but it's lighter than the Maxima or Lexus IS. The electromechanical steering makes parking easy. The brakes work very well.