2012 Volkswagen Eos Introduction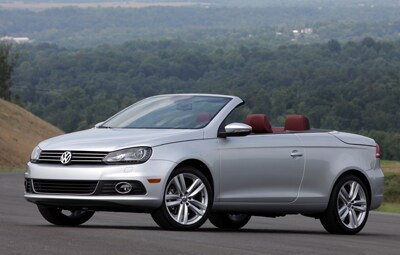 Consider the Volkswagen Eos an everyday, all-season convertible. The Eos is good on gas, lively, carefree and comfortable, if more so for those riding in front.
The Eos has been substantially updated for 2012, with fresh styling front and rear, new interior appointments and more standard equipment, including HD radio and keyless unlocking and start. Yet it remains what it has been since its introduction: a good compromise between practical daily transportation and sporty, emotion-fueled sun worship.
The updated 2012 Eos comes with only one engine-transmission combination. Its 2.0-liter, 200-hp turbocharged engine, used in many VW and Audi vehicles, is economical to operate and quite powerful for its size. It's smooth and comfortable for commuting, and fun when a driver gets enthusiast. The 6-speed Direct Shift Gearbox works fine as a fully automated transmission, which it is. Yet it's also one the sportiest automatics available, and better suited to a fairly small engine than most.
At about $34,000, the 2012 Volkswagen Eos Komfort comes very well equipped, with dual-zone automatic climate control, heated front seats and a decent stereo with CD changer and satellite radio, three years scheduled maintenance included. The interior is nicely finished and user friendly. The Eos Lux adds leather seating and navigation, while the Executive adds larger wheels, a firmer sport suspension and premium audio. All models come with a folding hardtop that disappears under the trunk lid, the likes of which were once reserved for very expensive cars.
The top is made of glass and steel, rather than conventional fabric, and it automatically opens in 25 seconds from inside or outside the car. Like more expensive European jobs, the Eos has a pop-up roll bar that automatically deploys behind the rear seats and adds crash protection. Want a bit less sunshine? The forward portion of the top will simply slide rearward, working like a big, wide sunroof.
With the top up, the Eos is as snug, quiet and solid as the typical small coupe. It also rides comfortably, and even with the top down, it's largely free of the shake and rattles that plague some moderately priced four-seat convertibles. It handles predictably, and the sport suspension on the Executive model makes it a bit more responsive. It accommodates two with good space, and four in a pinch, though we wouldn't recommend it for four adults beyond a quick jaunt to the beach on a sunny day.
There are at least seven convertibles with lower base prices than the Eos, some substantially so. Some get better mileage; others are roomier, more powerful or more fun to drive in the purist's sense. The Chrysler 200 convertible offers the same sort of folding hardtop for a bit less cash. Yet few if any of those convertibles match the Eos for its overall combination of fun, practicality, security and convenience.