2012 Volkswagen GTI Driving Impressions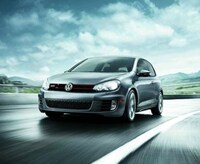 The GTI is a hoot to drive, whether ferrying kids about or resorting to hooliganism. It's a synergy of balance and capability, even if other cars offer more speed or higher handling limits.
With a small turbocharger on the 2.0-liter four-cylinder engine, power is immediate and gratifying at any speed. Peak horsepower is 200 and maximum torque 207 lb-ft, both inferior to the MazdaSpeed3 and Subaru Impreza WRX. Those cars are quicker but rate about 20-percent lower fuel economy, and the all-wheel-drive Ralliart and WRX are heavier. Honda's Civic Si non-turbo matches the GTI for horsepower but falls behind on torque and is just shy in fuel economy. Hyundai's rear-drive Genesis coupe 2.0-liter turbo is slightly more powerful, slightly less economical, and not quite as refined as the GTI.
Underway, that refinement counts for a lot. All 207 lb-ft of torque are available from 1800 rpm to 5000, and max horsepower ranges from 5100 to 6000 rpm, so there is virtually nowhere on the rev band without plenty of urge. Zero to 60 mph is in the low to mid six-second range. Officially, the engine goes to 6500 rpm, smoothly and with a pleasant snarl from the tailpipes, but on more than one occasion the tach needle on a DSG car sailed right off to 7000 rpm under full throttle. The abundant torque and flexibility make it easy to drive, the willingness and lack of torque steer make enjoyable.
A 6-speed manual transmission is standard and properly set up for the car's use and broad powerband. The double-clutch DSG, essentially a 6-speed automated manual (no clutch pedal, shift only if you wish) cracks off gear-changes faster than humans, dropping the 0-60 mph time by a tenth of a second. It even has the ubiquitous launch control but you don't want to make a habit of using it. We tend to prefer manual gearboxes with small turbocharged engines.
Fuel economy for the GTI is an EPA-estimated 21/31 mpg City/Highway with manual gearbox, 24/33 mpg with the DSG transmission.
There are few drawbacks to either gearbox. The manual probably gives up one real-world mpg. The DSG requires a sensitive right foot: the combination of electronic throttle, boost and gearbox control means a fine line between asking for a little more power and instead the car downshifting, going on boost and delivering substantially more power than you wanted.
We also find a distinct difference between Drive and Sport with the DSG. Drive wants to shift up quickly. This improves fuel economy but hurts throttle response. When cruising along in the city, there often seems to be a lack of power when you finally get an open space. The Sport mode holds gears much longer, making it the choice for performance driving. During everyday driving, though, this keeps the power on boil all the time, making the car feel high strung and hurting fuel economy. It also never goes into sixth gear, which also hurts economy. We found ourselves switching between these modes to get the throttle response we desired in various situations. Another way to deal with these issues is to leave the car in Drive and shift with the steering wheel paddles or gearshift.
MacPherson-strut front and coil/link rear suspensions, both with hollow anti-roll bars and tacky summer tires ensure the GTI sticks to the ground. In this respect, the GTI gives up nothing in performance to the competition and generally delivers a more civilized, compliant ride, in part because it's lighter than anything but the Civic Si. You can make it louder, make it stiffer, or add your own 19-inch wheels (an option in Europe where road surfaces are better) but you risk giving up some civility that makes the GTI an everyday driver or interstate cruiser.
Although the GTI is front-wheel drive, it does not suffer from torque-steer like the MazdaSpeed3. The GTI seems able to put down full power under almost any circumstance. The steering is direct, nicely weighted and transmits a good idea what the front tires are doing, and the brakes are responsive and stable. Some of the competition may post higher cornering limits or braking distances but the margins won't be substantial and they all cost more.