2012 Volkswagen GTI Introduction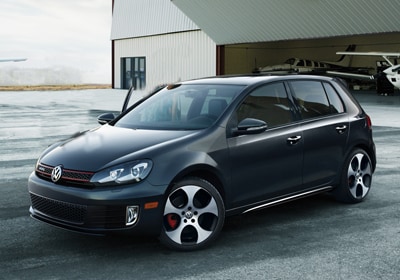 The Volkswagen GTI is the hot version of the Golf. Featuring a sports suspension, more powerful brakes, and a high-performance engine, the GTI delivers performance and fuel economy, driving enjoyment and hatchback versatility. Though understated, it comes with sport seats and special body trim.
GTI comes in two-door and four-door versions. Both are hatchbacks. The rear seat and interior space is the same in both, but the four-door offers more convenience. Four adults fit quite comfortably in either version, though getting into and out of the back of the four-door is obviously much easier.
Volkswagen's turbocharged 2.0-liter four-cylinder engine generates 200 horsepower and 207 foot-pounds of torque over a wider rev range than anything in its class. The only choice in mechanicals is a 6-speed manual or 6-speed dual-clutch automated manual transmission.
Driving a GTI is great fun. It's a well-balanced machine and that makes it satisfying. Power is immediate and gratifying at any speed. It's quicker than a Honda Civic Si. It's not as quick as the hot rods from Mazda, Subaru or Mitsubishi, but it gets better fuel economy. It's more refined than the Civic or the Hyundai Genesis Coupe. The strong torque from the GTI's engine extends across a broad range and it revs freely past its theoretical redline. This responsive power over a broad range of engine speeds makes it easy and enjoyable to drive, with quick response on tap any time. Torque steer, common on powerful front-drive cars, is noticeably absent here.
Our preference is for the 6-speed manual gearbox. The DSG shifts quickly, offering excellent acceleration performance. Modulating power with the DSG is tricky, however, with a fine line between a little more power and a lot more power.
There's good grip in corners, with summer performance tires and a sport-tuned suspension, yet it's civilized and compliant, filtering out some of the harshness of the outside world.
Inside, it's comfortable, with supportive seats and a businesslike cabin. Cloth and leather are available; we preferred the cloth for ability to grip the driver in corners. The seat bottoms are relatively long, which is good for long-legged drivers. Outward visibility is good.
Cargo capacity is a GTI feature. With folding rear seats and the big hatch opening, you can get a lot of cargo into one of these, 42 cubic feet.
Changes for 2012 are minimal, involving the simplification of the model lineup by adding a new model, called quite descriptively GTI Base with Convenience and Sunroof, which makes previously optional equipment standard. The GTI was all-new for 2010.
The GTI competes primarily against the faster, edgier, front-drive MazdaSpeed3; the more powerful, all-wheel-drive Mitsubishi Lancer Ralliart and Subaru Impreza WRX; the less-powerful, front-drive non-hatch Civic Si; and the similarly quick, rear-drive Hyundai Genesis Coupe 2.0T. The GTI gets better fuel economy than any of them. And it's less expensive than all but the Genesis Coupe, which has a smaller back seat and less cargo capacity.