2012 Volkswagen GTI Summary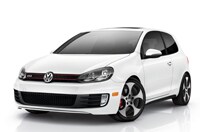 The Volkswagen GTI is fun to drive while offering the practical versatility of a hatchback, decent operating economy, and a compact footprint. For enthusiasts with a budget for just one car that has to do everything you'd be hard-pressed to find fault with it.
NewCarTestDrive.com correspondent G.R. Whale reported from Los Angeles, with Kirk Bell reporting from Herndon, Virginia.