2012 Volkswagen Golf Summary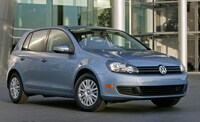 The Volkswagen Golf is enjoyable to drive, with an impressive balance of ride and handling, as well as a classy interior. The standard Golf offers Volkswagen quality and refinement at Honda prices. The Golf TDI gets excellent fuel economy, but its diesel engine isn't cheap. The new Golf R is a viable competitor for the likes of the Mitsubishi Evo and Subaru WRX STI, with sharp handling and a high-strung engine.
NewCarTestDrive.com correspondent Kirk Bell reported from Herndon, Virginia; with Tom Lankard in Wolfsburg, Germany; and Mitch McCullough in Los Angeles.