2012 Volkswagen Passat Introduction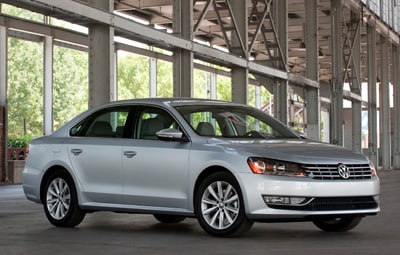 The all-new 2012 Volkswagen Passat is a four-door, five-passenger sedan specifically designed for mainstream American car buyers. Redesigned and launched with aggressive pricing, the new Passat is built at an assembly plant Volkswagen opened in 2011 at Chattanooga, Tennessee. More than just building the car here, though, VW wants shoppers to consider the new Passat along side the Toyota Camry, Honda Accord, Ford Fusion, Chevrolet Malibu, and Hyundai Sonata. Volkswagen's goal was to make the Passat the most American of any car VW builds. In large part, VW has succeeded, in some ways maybe too well.
The first eye-catching feature of the 2012 Passat is its price, with the base Passat 2.5L S starting at $19,995, which is lower than any of its prime competitors, even the aggressively priced and marketed Hyundai Sonata, which opens at $20,145. The new Passat, though, delivers some unexpected features in that base model, among the more interesting being automatic dual-zone climate control and Bluetooth connectivity. Passat 2.5L SE is available with a GPS-based, touch-screen navigation system, although adding in all the other features needed to get to that one brings the price to $26,795. The Passat 2.5L models come with a 170-horspower, 2.5-liter, inline five cylinder with either a 5-speed manual or a 6-speed automatic transmission.
Also available in the new Passat is a turbocharged diesel, which VW monikers as the TDI and is unique in the market segment. The Passat TDI SE boasts an EPA miles-per-gallon rating of 31/43 mpg city/highway, which is tops for the segment (except for the hybrid-powered Hyundai Sonata and Ford Fusion). The Passat TDI can be fitted with VW's slick direct-shift gearbox, or DSG, which is a twin-clutch, 6-speed manual transmission that shifts electronically, sans clutch pedal.
The top of the line Passat 3.6L comes standard with the DSG and a VW-exclusive, 400-watt Fender sound system. Leather, navigation system, sunroof and keyless push button start/stop, along with some other semi-luxury features are available.
When we drove the new Passats, we found the ride quality comfortable without being soft, well tuned for American interstates. Handling is what most drivers expect from a mainstream, midsize sedan, as in, predictable and forgiving, properly suited for the ins and outs of the daily commute.
The new Passat's styling is understated, nothing really remarkable, but with enough trademark VW design cues to distinguish it from something imported from Japan or from Detroit. Its visual proportions obscure somewhat its interior roominess, where it claims best in class rear seat leg room, an accommodation that receives too little consideration in most mainstream sedans.
Fit and finish has that Teutonic feel, with tight tolerances and quality materials. Nothing flashy, just solid, functional controls and easy to read gauges communicating the essential data about the car's mechanicals and electronics. The optional wood grain looks better than the real wood in some higher priced cars. Visibility is good, although there's a bit of blockage out the rear due to the standard three rear seat head restraints.
All of these are strong points for this new Passat, which Volkswagen designed and developed just for the American market. It will not be sold in Germany, which continues to get the Euro-spec Passat. This should appeal to Americans' ego, which no doubt is part of VW's grand scheme. In addition to which, as noted, the new Passat has a smoother, quieter and more genteel ride. Its styling is less severe. Its interior has softer tones and lower contrasts. This should appeal to the majority of Americans, who look at cars as much as means of transportation as expressions of individuality.
But this also means that America will no longer get the German version, and some VW fans no doubt will be the lesser for it. Because in making the new Passat more appealing to more Americans, Volkswagen has scrubbed off some of the edginess, some of the crispness that allowed its predecessor to connect with a core of VW faithful.