2012 Volvo C30 Introduction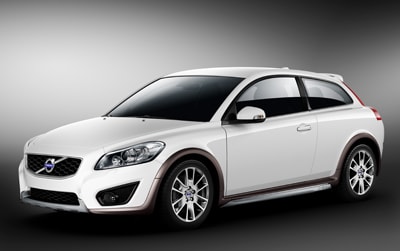 The Volvo C30 is an attractive premium compact that's practical and fun to drive. The C30 comes with Volvo's safety engineering and is loaded with safety features. The Volvo C30 competes with the Audi A3 and Volkswagen GTI, sporty premium compact cars.
For 2012, there are mostly only package changes, with the standard Bluetooth now adding audio streaming. The current-generation C30 was launched as a 2007 model. Styling was revised for 2011.
The biggest news for 2012 is that Volvo's performance group, Polestar Motorsport, now offers an upgrade for the C30. For $1295, your Volvo dealer will download software into the car's ECU (electronic control unit), that increases the horsepower from 227 to 250, and the torque from 236 pound-feet to 273, with no decrease in fuel mileage. We tested a Polestar C30 R-Design, and the increase in acceleration is significant at the seat of your pants.
The 2012 Volvo C30 is offered in two models, the C30 T5 and the more upscale C30 T5 R-Design, which comes with leather upholstery. The Volvo C30 T5 R-Design is designed for sharper handling response, with stiffer springs, special shocks, stiffer bushings and a quicker steering ratio.
All C30 models come with a 2.5-liter turbocharged five-cylinder engine rated at 227 horsepower and a choice of 6-speed manual or 5-speed automatic Geartronic with Auto-stick. The C30 is front-wheel drive.
Fuel economy is an EPA-estimated 21/30 mpg City/Highway with the automatic, 21/29 mpg with the manual gearbox.
We found the C30 fun to drive, with good steering feel. It stays flat while cornering and is nimble enough to slice through traffic. The turbocharged five-cylinder engine provides plenty of punch to keep the fun coming. Ride quality is generally good, though it can become a little hard with the available 18-inch wheels.
Inside, the C30 offers a pleasant, fairly roomy cabin for four. The standard cloth upholstery is a unique fabric that resembles wetsuit material. Room up front is plentiful, and the controls are easy to spot and use. The two-door body style makes getting into the backseat a bit of a hassle, but the rear seat is comfortable for two passengers. Those rear seats fold down to create a large rear hatch area with lots of carrying capacity.
A two-door hatchback, the C30 shares most of its mechanicals with the Volvo S40 compact sedan. While similar in character, the C30 has less standard equipment, allowing Volvo to make the C30 its lowest-priced car.