2012 Volvo S80 Driving Impressions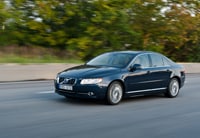 The Volvo S80 is a rock-solid sedan, a wonderful steed for covering large swaths of highway quickly and comfortably.
Fuel economy for the base S80 with the 3.2-liter six-cylinder engine with front-wheel drive is an EPA-rated 18/27 mpg City/Highway.
The turbocharged T6 is rated 16/24 miles per gallon. Maximum torque with the turbo is on tap from just 2100 rpm and remains available all the way up the rev range.
At cruising speeds, we found the cabin quiet, with a bit of wind noise and a bit of tire noise coming in.
The Volvo chassis system underneath the S80 is an evolution of the 4C chassis, with adaptive shock absorbers changing second by second according to inputs from the road and the car itself. The system offers three different settings: Comfort, Sport, and Advanced.
The Dynamic chassis promises crisper response via shorter and firmer springs, modified shock damping, firmer anti-roll bars and stiffer subframe bushings.
We experienced the adaptive cruise control system, which worked as advertised to maintain our preset distance to the car ahead in the fast lane, and we heard and saw the collision warning system in action and preferred to turn it off when on the crowded two-lane roads.
We found the brakes powerful and quick and positive when used hard from high speeds.